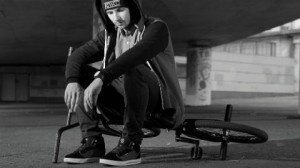 Matti Hemmings is a professional Flatland BMXer, double Guinness World Record holder and founder of the UK Flatland BMX Championships, which brings all levels of riders together to '…show off their skills.' Clearly living the dream, Cyclo caught up with Matti at the end of a busy and successful year to talk world-records, inspiration and plans for the future…
Cyclo: How and when did the cycling bug bite?
Matti Hemmings: The cycling bug really started to bite at a young age. Living in a village in Wales near the Brecon Beacons gave me a good place to start with mountain biking. Then, while watching the Extreme Sports Channel, I came across BMX Flatland and decided to give that a go. I've been riding ever since…
Cyclo: Can you explain what Flatland BMX is exactly?
Matti Hemmings: Flatland BMX is the ultimate – and by far the hardest – discipline to master in urban freestyle. It could be described as breakdancing on a BMX. It takes on more of an art-form than any other style of BMX disciplines with an emphasis on creativity, style and originality as riders create their own tricks and combinations.
Cyclo: What was you first bike? 
Matti Hemmings: My first ever bike was an Apollo – I don't think I need to say anything more here…  (smiles.)
Cyclo: Who inspired you to ride?
Matti Hemmings: My parents gave me a lot of support and inspired me to keep pushing my progression in BMX.
Cyclo: When and how did you realise that riding a bike could be a profession?
Matti Hemmings: I didn't realise that riding a bike would potentially be a profession for me; I just went with the flow and enjoyed riding – at the same time working hard to progress with my own riding and keeping it fun and fresh.
Cyclo: You founded the UK Flatland BMX Championships – can you tell us about that…
Matti Hemmings: The UK Flatland BMX Championships give something back to the sport by organising a free event for riders of all levels to come along and have fun, whilst competing for some amazing prizes from the sponsors. The support was amazing for both 2011 & 2012 event; but due to a busy year with events I couldn't find the time to organise it this time around…
Cyclo: You run shows and demos for schools too – the kids' reactions must be hugely motivating…
Matti Hemmings: Yeah, this year has been busy. Visiting a number of schools across the UK to inspire young people to get involved with cycling. The reaction has been awesome – more young people taking up cycling. But it's not just about inspiring young people to get on their bikes, as most kids are interested in other things too – so it's trying to get the message across about working hard in school too and in whatever they enjoy doing. Practice makes perfect across the board!
Cyclo: Tell us about the two world records.
Matti Hemmings: Both records were achieved this year for the Guinness World Records I hold. One was for the most Cliffhanger Spins with one foot on the handlebars in one minute, which was 56 and was achieved on February 22. The other record was live on Blue Peter in April for the most Death Truck Spins in one minute, which was 32.
Cyclo: You were also involved with the London Olympic Torch Relay?
Matti Hemmings: I toured with the London 2012 Olympic Torch Relay performing BMX tricks to entertain the crowds that came out to support the touch bearers over the 70 days around the UK. It was an amazing feeling, a one-off moment…
Cyclo: What do you consider your greatest achievement?
Matti Hemmings: By far my greatest achievements would have to be my invite to Action Medical Research for Children champion dinner fundraiser; being alongside world class cyclists such as Sir Chris Hoy, Chris Boardman and many more. Awesome charity to be involved with… being able to give something back is incredible.
Cyclo: What advice would you give kids wanting to pursue a two-wheeled dream?
Matti Hemmings: Again, practice makes perfect. If you don't get it first time get back up try it again – keep pushing forward and nothing is impossible. It just takes hard work and dedication.
Cyclo: What's next for you?
Matti Hemmings: Not sure yet; this year has been an amazing year for me with numerous TV appearances, the Guinness World Records, inspiring kids to get involved with cycling and competing in a few professional level contests. There are plans for another single speed film on my Foffa bike with my good friend Alex Allen from Formulate Media. I'll just take every day as it comes and enjoy cycling to the max.
Find out more about Matti at mattihemmings.com and follow him on Twitter @mattihemmings Take a look at the incredible videos below to see just what's possible on two wheels…