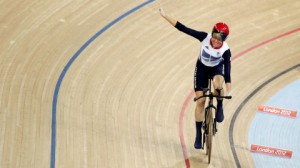 The return to competitive cycling for Sarah Storey, who gave birth to a daughter in June, has started perfectly with victory in the 3km Pursuit at the Paracycling International Cup. The 11-time gold medallist levelled with rival Jennifer Schuble with a third distance still to run, winning in a time of 3:45.406 – although considerably off her world-record best of 3:32.170, set at the London Olympics, Storey told BBC Sport, 'It was good to be back racing. The time isn't so bad but I definitely need to get fitter; it hurt at the end…'
There was success too at the Newport event for GB's Jody Cundy who set a record of 1:04.996 in the C4 kilometre – however the record will not be officially recognised as the Paracycling International Cup does not have the required anti-doping procedures in place to ratify the time.
For more on Sarah Storey and to read her revealing blog on balancing life as a new mother with that of a top level athlete click here.