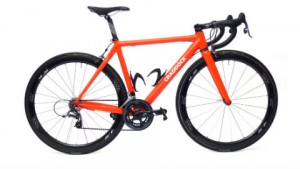 Making the first and only commercial custom carbon fibre frames in the UK, Craddock operates from its own composites production facility in Worcestershire. Their frames are designed, engineered and fabricated by Richard Craddock, a former international road racer with a depth of experience in design and manufacturing in the bike industry. Cyclo spoke to him about his passion and the process…
Cyclo: When did the cycling bug bite and what was your first bike?
Richard Craddock: I come from a road racing family so as soon as I could get on a bike that's what I was doing. My first road bike was a lugged steel Prima in red with chrome fork and stays. I raced, I watched Lemond and Fignon on TV, and I loved it all.
Cyclo: The company is relatively new, can you tell us a little about your background…
Richard Craddock: I've worked for brands and manufacturers in the bike industry but I always preferred the manufacturers. There's a certain integrity when you actually make the part that bears the company name.
Cyclo: What made you finally take the plunge and establish the business? Was there a driving motivation?
Richard Craddock: It all started with a desire to make a frame that fitted me better than a mass-produced one. People showed a lot of interest in the first prototype, and when they started talking about their problems with fit I thought there could be a market.
Cyclo: Were there areas of your own skill-set that needed either sharpening or, indeed, learning from scratch?
Richard Craddock: The challenge was whether it was feasible for one person to perform all of the roles in a manufacturing company. There is no longer a colleague or department taking care of sales, customer services, accounts, legal, and marketing so I've had to learn these things.
Cyclo: There's a balance of art and science in what you do (though perhaps you disagree?) Would you say your frames/designs were borne out of meticulous research or more of a gut feeling?
Richard Craddock: To engineer the structure it's a process of derivation, calculation, fabrication, validation and iteration.
Cyclo: How did you test your early designs (on 'real' riders?) as the product evolved? Presumably feedback is key…
Richard Craddock: I did a lot of work on the tubes and laminates before I made the first prototype frame. I rode that first frame hard for 12 months and then put it through a further series of lab tests. The preparatory work meant that the first frame was pretty close to what we have today.
Cyclo: There's a degree of compliance in design and manufacturing, not least presumably with safety standards, was that particularly bureaucratic?
Richard Craddock: I used an accredited test centre to carry out the fatigue and impact tests required by EN 14781. The frame passed these tests and received the certificate.
Cyclo: How would you sell the benefit(s) and advantages of a custom carbon over an off-the-shelf option?
Richard Craddock: Off-the-shelf frames are sized by seat tube length, then you get whatever top tube and head tube length (or height and reach to the bars) that the designer thought was 'average'. I can vary these dimensions independently so that my customers have something that fits them better. It's the difference between a suit from M&S and one from Savile Row.
Cyclo: Talk us through the process of a new customer coming to you for a fit.
Richard Craddock: It would be rare to actually meet the customer as they're spread far and wide, but there are several ways to do it:
Work from their body dimensions.
Work from their current contact points on the bike.
Make to their specified frame dimensions.
I produce a frame drawing for each customer showing them the relevant dimensions, and once we're both happy with the fit I start fabrication. The customer also has their choice of paint colour.
Cyclo: Everything is UK made or sourced too?
Richard Craddock: Not everything – the forks and stays are imported. The tubes are made in the UK to my spec and the painter is local. The headsets are also UK made.
Cyclo: You also produce finished builds for your customers…
Richard Craddock: Yes I can build the frames into full bikes to the customer's specification.
Cyclo: There still seems to be a bit of a lack of handcrafted industry in the UK, are we lacking the skills?
Richard Craddock: I think there are probably lots of craftspeople in the UK but because each one is a very small company and operating in a niche, only the followers of that niche get to know about them. You could find a skilled craftsperson in this country to make an excellent bespoke guitar, shotgun, or shoes, but you'd have to seek them out.
Cyclo: Finally, plans for the future?
Richard Craddock: I'd like to grow the business and hire people so that I can bring more operations in-house such as paint, tubes and forks.
About Craddock
Each Craddock frame is made to measure so that it fits the rider perfectly. The construction process allows full customisation of the frame's geometry, so all tube lengths and angles can be optimised. The customer is guided through the options on fit and geometry then receives their own unique CAD frame drawing.
The laminate specifications for the tubes and joints have been developed though an extensive R&D process to produce a frame that is honed for an excellent ride.
During fabrication the carbon tubes are mitred and placed in a precision fixture, then the joints are wrapped using prepreg carbon fibre. The frame is finally cured under pressure in a precisely controlled oven. Even the small details of the frame have been meticulously engineered such as the moulded carbon fibre cable stops. These are bonded to the tube to avoid the use of drilled holes and rivets commonly found on mass produced frames.
Paint colours and finishes are chosen by the customer to add a further level of customisation. A Hope headset, also made in the UK, is fitted as standard. Frames can be built into full bikes, with each detail specified by the customer, using groupsets from SRAM, Shimano or Campagnolo.
The price for a full custom frameset is £3,100 and owners of Craddock frames will find themselves in an exclusive club as the maximum production capacity is just 50 bikes per year. Further details at craddockcycles.co.uk