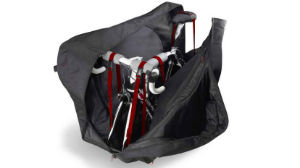 Scicon have been creating beautifully constructed bike bags for more than three decades and the high-spec, high-tech AeroComfort 2.0 Bike Bag looks like the kind of pinnacle at which other companies might dust their hands, mutter 'job done', and retire. Scicon, of course, will keep on refining and producing ever-greater bags, but in the mean time let's admire the mighty AeroComfort 2.0 …
If you have ever had to cross your fingers and entrust your beloved bike to the darkness of an aeroplane's cargo hold you will know what a tense time stretches ahead. The AeroComfort 2.0 removes the stress and, being (essentially) a soft bag, does so at the fraction of a cost of some hardshell options. The AeroComfort unzips along three sides, the frameset drops into the aluminium frame via the included skewers, the wheels are stashed in the padded and reinforced side pockets, then it's just a case of tightening a couple of straps, zipping the zips and you're good to go. And because the bag is wider at the front end there isn't even the need to remove your handlebars.
Okay, we have perhaps over simplified a little – we did need to drop the saddle slightly (but that will depend on your bike set-up anyway) and on first use, when things were unfamiliar, using the AeroComfort was slightly daunting but with practice we got an initial pack time of 15 minutes down to a much more respectable 5.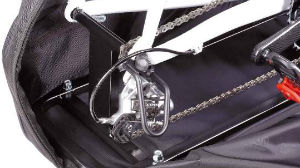 And it's not just the relative ease of use and the reassuringly solid construction that impresses here; as much as anything it's all the added niceties and incredible attention to detail. The rear derailleur is targeted for padding against side shock, the wheel pouches include solid hub protection, the straps and webbing are well thought through and fully adjustable for customisation and the bag even shipped with foam shock tubes to prevent frame scratches. Add to this as saddle cover and even a TSA (Transport Security Administration) approved combination lock which allows airport security (but no one else) access, and the AeroComfort really begins to add up.
If we had one slight criticism it would sit with the external shoulder strap clips which felt like the weakest link and were incredibly stiff to clip into place. That said in transit they have little or no load-bearing responsibility and their resistance to fastening did ease with use.
The Scicon AeroComfort 2.0 Bike Bag is made from heavy-duty Ripstop nylon, weighs in at 8.9kg and is designed for road, tri bikes and MTBs under 29" – it retails at £475, not cheap but given the level of detail and the peace of mind that such well thought through construction brings Cyclo considers it worth every penny.
Further details of the AeroComfort at sciconbags.com and take a look at the video below for instructions on how to use.