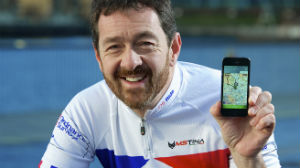 This July, the world's best road cyclists will descend on Britain for the start of the Tour de France. Le Grand Depart in Yorkshire sees the start of 600kilometres of the UK's toughest terrain before the finish of the third stage in London and a new, free, iOS app allows keen cyclists plenty of time to test themselves on the actual tour route before the pros get here.
British cycling legend Chris Boardman has picked out his favourite sections of the three UK stages of the Tour and has joined with Ordnance Survey to launch the OS Ride app, which contains mapping for all three stages being held in Britain, as well as high quality route maps for historic stages of the TdF when it came to Great Britain in 1974, 1994 and 2007.
Each stage comes with a mapping option allowing cyclists to ride smaller segments making the app truly suitable for all levels of road cycling. The app is also loaded with accurate elevation and height data and includes the option for cyclists to track their speed, distance and time across the challenging stages. The app also includes five bonus routes selected by Boardman, featuring some of his favourite rides from across the country, including Aviemore, Lyme Regis, Llandegla, the Peak District and the Lake District.
Boardman comments: 'OS Ride allows keen cyclists to record, track and share their stage achievements for both the 2014 stages and historic stages from previous tours. I especially like the option to ride smaller segments of the stages, making it accessible for a wide range of abilities and a great tool to support training programmes. This app is a must have for any keen road cyclist with unrivalled mapping accuracy showing added detail including height and elevation data. The digital maps also feature valuable tourist information for those planning to make the most from the areas surrounding the tour stages.'
Watch the video below with Boardman giving his tips and advice for cyclists on testing out the GB Tour stages as well as more information about the app.
Download the OS Ride app here