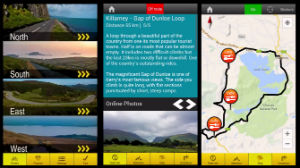 Cycle Ireland, the website that provides online route guides for cyclists of all ages and abilities, has announced the launch of its new smart phone App. Intended to make exploring Ireland by bike quicker and easier The Cycle Ireland App features 100 of the most scenic routes in the country passing many of Ireland's top attractions and covering 6,800 kilometres of ride. Featuring 100 routes – 50 circular, 50 point-to-point – it includes turn-by-turn directions, which reference visual landmarks without the need to consult maps, missed turn alerts and details of local attractions with photo and video additions.
James Harrington, creator of the Cycle Ireland App, says of the launch: 'The popularity of cycling is exploding in Ireland. Visitors who cycle here spend €200 million per annum mainly in rural areas. The Giro d'Italia Big Start in May will showcase our countryside to millions of cycling fans across Europe. Our huge network of back roads is a superb cycling resource but is under-utilised as they can be difficult to find and navigate. We need to get the message out to the key markets of the UK, Germany, France and the Netherlands, online and on mobile, just what is available to cyclists here. We want to create millions of memorable cycling trips with the Cycle Ireland App.'
Available for both iPhone and Android the 'Lite' version of the app is free to download and includes 4 routes, whilst the full version retails at £2.99 on iPhone and £4.14 on Android.
Further details on the Cycle Ireland app including links to downloads at cycleireland.ie