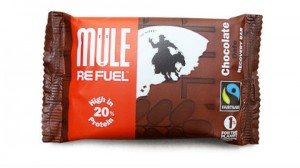 Cyclo has long admired the products from MuleBar and used both their Kick Gels and Energy Bars across numerous long rides, what we haven't done – until now – is use and review their equally delicious MuleBar ReFuel Bars…
MuleBar was born after a climbing trip to cerro Aconcagua in 2002 where co-founders Alex and Jimmy say they simply couldn't stomach any more of the energy bars on offer from their guides. After five years of experimentation, research and (presumably) eating the company produced their first commercial available products in 2007 and in many ways things haven't changed much since as they still product nutrition bars and gels based on their founding principles of nature, taste, performance, environment and simplicity.
The MuleBar ReFuel certainly ticks all of these boxes: In terms of 'nature', they use no synthetic ingredients, artificial preservatives, colourings, flavourings or palm oil, just a blend of bogoya banana, Fairtrade dates, Fairtrade almonds, cocoa and chocolate drops to produce either their Chocolate Banana or Chocolate Date flavour. Trust us, that blend also covers 'taste' – both flavours are excellent, with a sticky moreishness that fools you into thinking that they can't be good for you.
But of course, they are. The MuleBar ReFuel Chocolate Date is made from 23% Fairtrade dates and delivers 240Kcal, 31g of carbohydrate and 13g of high quality protein per 65g bar, whilst the Chocolate Banana (same size bar) is 25% Bogoya banana to give 246Kcal, 34g of carbs and 14g of protein. The commendably stripped back ingredients also ticks off 'simplicity' from the co-founders list.
That leaves only 'environment' and it's good to know that not only do MuleBar use Fairtrade ingredients (ReFuel is the only Fairtrade protein bars on the UK market), they are also Vegetarian Society approved and are signed up to the 1% For The Planet scheme which sees 1% of annual sales donated to sustainability initiatives.
MuleBar ReFuel RRP at £2.50 per 65g bar or online at mulebar.com at £30 per box of 12, £60 per box of 24 for either flavour or mixed boxes of both flavours. Go on, treat yourself…