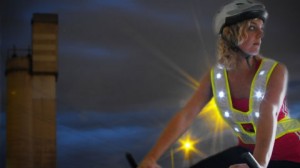 At Cyclo we have often said that the safest approach to cycling in poor visibility or at night is to light up like a Christmas tree. Well the See Me More jacket, which we have been testing through these early spring evenings, seems to have taken that almost literally.
A first glance it looks not unlike most hi-viz slip-over solutions – it's partway between a tabard and an extensive strap, which slips over the head and can then be fastened and adjusted with the Velcro waistband. The build quality is both substantial and of high quality – the stitching (the quality of which you don't generally notice until it's all coming undone) appears particularly robust. But, here's where the good bit starts: click the switch at the front and eight super-bright white LEDs on the front and a further eight red on the rear illuminate the whole thing.
Yes, we've seen LED enhanced hi-viz before and some of it's pretty good, but the See Me More takes things to another level with exceptionally crisp brightness that can be set to one of two strobe modes or to constant on. The red/white difference is a nice touch too…
It's not all good news though. Whilst the tabard is really well constructed the battery pack, containing three bulky AAAs, needs some serious though. The flimsy plastic certainly won't stand up to much wear and tear, the wiring looks like it was put together at a kitchen table and the flap-over pocket which holds everything in supposedly waterproof conditions leaked water when we got caught out in a downpour. All of which is a shame because so much attention has been paid elsewhere.
If the makers – who are potentially on to a very good thing, certainly as a commuter solution – can address the quality of the battery housing and wiring we wouldn't hesitate in sending you straight out to buy one. With enough feedback Cyclo is pretty sure things will get sorted, so we'll keep you posted and hopefully the See Me More will make our unequivocal recommendation list pretty soon.
The See Me More retails at £29.99 with further details and online purchase at seememore.co.uk