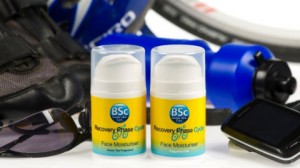 Cycling can certainly punish the body, but whilst most of us take care to hone and recover our muscles and fuel our body how many can honestly say we pay much attention to our skin? Hours on the bike take their toll on the skin with extended exposure to the elements, airborne toxins and sweat which is potentially where the specially formulated Brodie Recovery Phase Cycle Face Moisturiser may come in…
Recommend for use both before and after cycling, Recovery Phase Cycle contains zinc oxide, a natural UVA&B block, as well as shea butter which has natural sun protection properties, although you should note that the cream does not have a measured Sun Protection Factor (SPF). Vitamin B3, which helps to improve the skins moisture levels and helps reduce 'trans epidermal water loss' (TEWL) whilst strengthening its barrier function, is also present, as are vitamins C, E, B5 which all act as antioxidants and help promote cell renewal. These are all bolstered by additional botanicals including avocado, evening primrose and rosehip.
The cream does feel a little viscous and takes longer to massage in than other moisturisers we have tried (probably largely due to the relatively 'thick' zinc oxide) but the end result – both before and, importantly, after time in the saddle – was noticeably softer skin that improved with an extended period of use. Of particular note was the freshness that came from the soothing aloe vera and cucumber extracts, which almost made us forget we had been on long training rides and had us reaching for a quenching cup of herbal tea…
Here at Cyclo we are as probably guilty as anyone when it comes to neglecting our skin, but Brodie Recovery Phase Cycle Face Moisturiser has done an impressive job of making us sit up and take notice of how important it can be.
Brodie Recovery Phase Cycle Face Moisturiser retails at £17.95 for either fragrance-free or green tea-fragranced 50g pumps – further details and online purchase at brodieskincare.co.uk