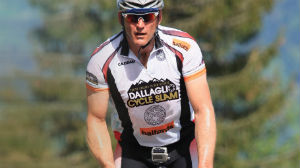 Elivar, the sports nutrition brand optimised for over 35s, has confirmed their partnership with the Dallaglio Cycle Slam, supporting the core team of riders through their gruelling 2,320.9 km race over 25 days. Taking place from June 1 to 25 the Dallaglio Cycle Slam is the Dallaglio Foundation's largest fundraising event, which sees Lawrence Dallaglio, alongside 300 supporters, cycle through Italy, France, Switzerland and England to raise money for his charity. As the exclusive nutrition partner to the Dallaglio Cycle Slam Elivar will be supplying their Prepare, Endure and Recover range of sports nutrition products to Lawrence Dallaglio and his team of core riders including world-class athletes and celebrities.
Lawrence Dallaglio comments: 'We have a massive challenge ahead of us and we're delighted to have Elivar fuelling me and the team right the way through the ride. Decent sports nutrition is essential for the Dallaglio Cycle Slam because it is such a test of endurance, we'll be riding through a tough environment for 25 days and a group of amateurs like us needs all the help we can get!
The four stages of the Dallaglio Cycle Slam are as follows:
Treviso, Italy to St Moritz, Switzerland – June 2-6, 540.1 km
St Moritz, Switzerland to Chamonix, France – June 8-12, 565.1 km
Chamonix, France to Chambery, France –June 14-17, 529.3 km
Leeds, England to Twickenham, England –June 20-24, 686.4 km
Recognising that what athletes need in their twenties is very different to their mid thirties and upwards, Elivar was developed with sports nutritionists and food scientists to ensure endurance sports participants are set up for continued participation into later life. To help raise funds for the Dallaglio Foundation Elivar will contribute 10% of the RRP price across their products from Elivar.com from now until the end of June and are also offering a 10% discount to all customers who use the specially created Dallaglio Cycle Slam coupon code SLAM2014 on the website.
Find out more about the Dallaglio Cycle Slam at dallagliocycleslam.com Read the Cyclo review of Elivar here