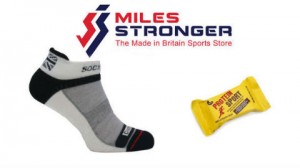 Miles Stronger is an online retailer selling a range of cycle niceties from shorts and shocks to gels and nutrition bars, but what makes their offer unique is that co-founders Teresa Robbins and Mike Grinsted source and sell only those products which are 100% British. Cyclo talked to them to find out what makes them tick…
Cyclo: Can you explain what makes Miles Stronger so different?
Miles Stronger: Our main unique selling point is that everything – and by everything we mean absolutely everything – we sell or stock is made in Britain. The other main point, which is a by-product of our 'Britishness', is that we feature some new and exciting brands, which in many cases gives our customers the chance to buy something completely different.
Cyclo: What was the 'eureka' moment that led to setting up Miles Stronger?
Miles Stronger: The inspiration really came about in early 2012. We had become a bit fed-up with finding the same brands all with far-away production facilities, usually in Asia. It seemed to us that manufacturing products half way round the world isn't a long-term or efficient approach. The current increase in the number of people taking up sport, increased concern for the environment and the growing support for UK manufacturing, meant the timing was right. The search for British-made products and brands was born.
Cyclo: You are both successful business people, but were there any particular challenges in setting up this business given the current financial climate?
Miles Stronger: Because we have 'been there' before setting up the company was relatively straightforward for us. Initial funding was from our personal resources, so thankfully we had no need to find a financial backer. However we have had to be very careful with our choice of which items and how much to stock to ensure our own resources are used wisely. In the longer term we will be looking for the support of a bank to assist with this point, something we know won't be easy!
Cyclo: Are margins tighter when sourcing purely British products?
Miles Stronger: Not necessarily, but in some cases yes. We are able to make acceptable margins on most of our products and still come in with a competitive market price for items, often less than house-hold 'name' brands to reflect the lesser known nature of some of those we stock. Funnily enough the margins are tightest on some of the more well know brands we stock, because we have to compete directly on price with discount houses. That said, we have strategically priced a few items to ensure that we don't appear expensive, as this would be counter productive for us. We believe in the long-term, not just a short-term cash generating company. Miles Stronger is a business, but we also believe in doing the right thing along the way, so we have made a strategic choice in a couple of cases.
Cyclo: How did do you go about deciding on the lines and brands you stock? 
Miles Stronger: Finding the brands and manufacturers is not easy. In fact this has probably been – and remains to be – the hardest parts of running Miles Stronger. Lots of time on Google, Twitter and general networking has been our most successful way to find suppliers. Many companies use the British 'brand', but when you get down to it they don't actually produce in the UK, perhaps just design or are a UK-based company. We've found this with small and some large well-know brands too!
Cyclo: So you personally scrutinise? 
Miles Stronger: Absolutely. When we find a potential product we always test the product and visit the manufacture to see their production for ourselves. If the product doesn't pass our road tests, is poor quality or we have concerns about at least medium term supply then we don't stock or sell the product. Thankfully the quality of most of the products we've come across has been excellent, this is something which sometimes I think we Brits fail to recognise but large parts of the international community do still acknowledge.
Cyclo: And are you finding brands returning production to the UK?
Miles Stronger: Yes, a good example is the Sockmine brand. They are a large sock manufacturer (the company name is Roy Lowe and Sons) who some years ago, eight I believe, moved their production out to Turkey and China. They took a decision in early 2013 to start producing their own brand of technical sports socks – their historical business is producing socks for most of the large UK retailers – back here in the UK, re-opening their previously dormant factory in Nottingham. They sell the products directly, but we were the first to retail their products, but probably not the last!
Cyclo: You look to highlight new and emerging brands too, yes?
Miles Stronger: Yes, many of our brands are from small companies who are driven by an entrepreneur or talented designer who may have started their business in the last couple of years. I think if we had tried to start Miles Stronger three or four years ago it would not have been possible as these emerging brands just would not have existed then and they form a large part of our portfolio today.
Cyclo: Any particular brand or product that you're particularly impressed to be stocking or have 'found'?
Miles Stronger: Again, the Sockmine definitely would come in this category because the product is great quality and perfectly encapsulates our message. But another product we have been impressed with is the Running Food Chia Charge Flapjack. This is one of our smaller suppliers, but the product has been born from a passion for the product and well thought about. In our experience once people taste the product they are hooked, I certainly know we are. Despite this not being a well-known brand we have sold a lot of this in comparison with some better-known products.
Cyclo: How closely do you work with brands?
Miles Stronger: Very, we purchase direct from all of them and in some cases have given feedback which as been taken on board and affected the product design. All of the brands are keen to promote their 'British Manufacturing' credentials, so to many we come across as a very welcome customer.
Cyclo: What plans for the future of Miles Stronger?
Miles Stronger: We are still on the hunt for more brands and products. If you come across any please do point them in our direction!
Take a look at the full Miles Stronger range at milesstronger.co.uk