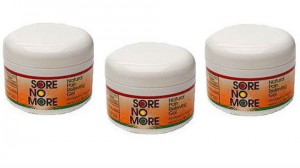 Hunched over the bars for hours on end, legs pumping, hands gripped tight, a cold wind whipping around the neck… It's little wonder that cyclists often end the day in need of more than a little TLC. Heat rubs and creams are always an excellent starting point for easing various aches and pains associated with both training and racing and Sore No More Warm Therapy looks to offer something a little different from the norm.
Taking it's starting point from the various plant extracts used for centuries by the native tribes of northern Mexico the Sore No More Warm Therapy ingredient list reads something like an arcane recipe list. Capsaicin (derived from a plant in the chilli family), rose water and extracts of grapefruit seed, green tea, orange peel and queen of the prairie (a member of the rose family) are all found within, as are two 'active' ingredients: 3% camphor and 3% menthol.
The cream is non-greasy, rubs in quickly and completely and delivers a solid, but subtle, glowing warmth within seconds. Unlike many heat rubs Sore No More also wafts off a delicate and pleasant armour which is cut through by the scent of orange. Looks like we may have found a cream that smells as good as it works…
The science suggests that capsaicin binds to a protein (TRPV1) that resides on the membranes of pain and heat-sensing neurons and when Cyclo used it on a selection of minor ailments (we suffer, so you don't have to) ranging from aching calves to a 'frozen' shoulder we found the long-lasting buzz of warmth worked incredibly well.
We have been particularly impressed by Sore No More Warm Therapy and its 100% natural credentials and are pretty sure you will be too.
Sore No More Warm Therapy retails at £9.95 for 4oz with further details and online purchase from natremed.co.uk