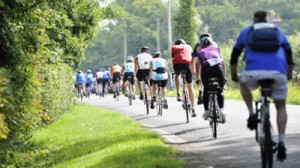 A truly classic 'Century' ride – the Manchester 100 Mile route follows beautiful lanes through a wide sweep of Cheshire and helps to raise funds for the Christie charity for good measure.
Starting and finishing at Wythenshawe Park, Manchester (map here), the route heads first to Northwich, taking in Delamere Forest and Nantwich (the half way point) for lunch before heading back through Middlewich to the Finish.
Early starts are the order of the day with away times from 6.45 to 08.15am to allow for a more leisurely approach to tackling the all important 100 milestone – although full support from mechs, support vehicles and marshals should help too. As will the Bike Events excellent guide to race preparation, which is available here.
If you still want to bag a 'Century' but think 100miles might prove a little chewy, there is also a 100km option with the same start and finish. The entry fee for the Manchester 100 Mile is £20 and the 100km alternative a pound cheaper at £19. Full details of Manchester 100 and online booking at bike-events.co.uk