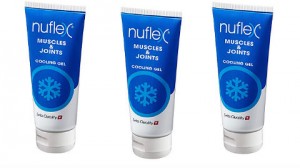 Over the year's Cyclo have tried and tested no end of gels, creams and lotions for fixing those post-ride aches and pains and the latest to cross our desk (and legs and back) is the Nuflex Cooling Gel.
Intended for use immediately after (minor) injury the Nuflex Cooling Gel employs a combination of peppermint oils, which both stimulates the skin and acts as a natural, mild local aesthetic, and lemon oil good for stimulating blood flow (and therefore speeding recovery) and for general skin cleansing. The smell – part of the holistic experience of using such gels – is strong, but not overpowering and the sense of cooling, predominantly achieved through alcohol evaporation, is a gradual onset with quite disappointing results for longevity. There's a general 'tingle' that lingers for quite some time after application but this certainly doesn't go to the lengths that a traditional icepack might achieve; although in fairness the Nuflex Cooling Gel is a more portable, road-side solution than ice…
Repeat application – manufacturers rather vaguely suggest 'several times a day' – is certainly the way to go with a gel like this, but that does mean the 100ml tube won't exactly last a race season. It feels more effective (certainly in terms of cooling) when gently applied rather than when more vigorous massage is used; a shame because a more robust application is more likely to help most minor muscle injuries.
The mild anti-inflammatory properties from the combined lemon and mint oils did help sooth a generally aching back post-ride and the fact that Nuflex Cooling Gel is non-greasy and rubs in completely is certainly a bonus. Not the most potent cooling gel we have tried (Biofreeze – review here – still leads) but Nuflex is a contender.
Nuflex Cooling Gel retails at £11.95 – again Biofreeze betters it on price – and is available from, amongst other places halfords.com