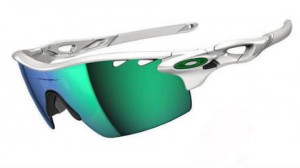 To our eye there often seems something aggressively angular about Oakley sunglasses – whilst the bulkier Jawbone or Racing Jacket may look good on the hunched over form of a pro cyclist we've never found anything quite to our liking; that was until putting the Oakley Radarlock Pitch to the test…
The Oakley Radarlock Pitch manage to perfectly combine both aesthetic desirability and outstanding performance (the latter no great surprise from Oakley) and their stripped back design and lightweight construction – a mere 30g – make them ideal for rides of any length.
Using their bespoke 'Switchlock Technology', which makes swapping lenses effortless and ridiculously quick, the Radarlock Pitch – unlike both the Jawbones and Racing Jackets – are frameless below the lens, making them both lighter and less intimidating-looking. The lack of weight also improves comfort; there are no pressure points around the ears as, instead of hooking the ear, they simply rest above them gripping the sides of the head with sleeves made from brilliantly named 'Unobtainium' – we hate to be reductive, but suspect 'Unobtainium' is basically rubber.
On test with Cyclo the Radarlock Pitch fitted perfectly, stayed absolutely put and remained comfortable for extended periods. There are plenty of options for fine-tuning the fit too including changeable nose pads, a nicety you won't find in £10 bargain sunnies.
When it comes to lenses Oakley are, quite rightly, considered second-to-none. The Radarlock Pitch ship with two standard lenses, in the case of the ones RunningMonkey were testing: Jade Iridium and the VR28. The former used for medium to bright light with a neutral lens tint for truer colour perception and an Iridium coating to reduce glare and the latter for less harsh conditions and when greater contrast is required.
Jade Iridium option proved outstanding in dazzling conditions and when the sun was low and the double venting to the top, outer edge (also featured on the VR28s) prevented all fogging. Despite the generous wrap of the single piece lens there wasn't even a hint of distortion, even at the very periphery of vision and it goes without saying that they filter out 100% of UVA, UVB, and UVC rays…
The Oakley Radarlock Pitch will set you back a mighty £195 but are, by far, one of the best pairs on sunglasses we have come across.
Further details of the Oakley Radarlock Pitch at uk.oakley.com