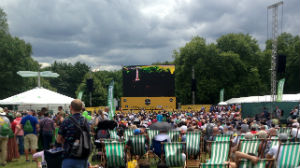 Whilst tens of thousands lined the streets of London to witness the conclusion of the 155km Tour de France route from Cambridge – the final UK stage before the race's return to France – thousands more packed the three Tour de France Fan Parks. The Fan Parks, in Trafalgar Square, Canary Wharf and Green Park, offered not only big screen action throughout the day, but a host of other cycling-related distractions too. Foodies Festivals kept everyone topped up on food, special guests gave talks and, on the Sunday night despite heavy rain, plenty of onlookers braved the elements to watch a special screening of Rising from Ashes an extraordinary documentary on the first Rwandan National Cycling team and their six year journey to the London Olympics.
The Tour de France Fan Parks were sponsored and supported by, amongst others, Nuffield Health, Skoda and European rail experts Voyages-sncf.com
Were you there? Send us your pictures by emailing us here.