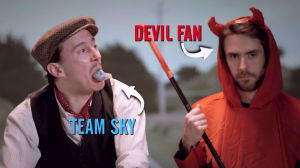 With the start of the Tour de France tomorrow Wahoo Fitness, an official training partner and supplier of KICKR bike trainers to Team Sky, are giving British supporters a chance to set the standards for their cycling heroes with the launch of The Wahooligan Way and its official film on wahooligans.co.uk
Taking a tongue-in-cheek look at all that makes cycling fans some of the most passionate in the sporting world, the film calls on Brits to send in their code of conduct to build the Wahooligan Way, with the best rules being published daily throughout the first three stages of the Tour de France. Fans can join the conversation and set their rules by quoting @wahoofitness #wahooligans on twitter or instagram, or by visiting the official Wahooligan website.
Explaining the Wahooligan Way, Mike Stashak, Managing Director at Wahoo Fitness, said: ĎTour de France fans are known to be some of the most passionate and energetic in the world, so to celebrate them coming over to the UK we wanted to create a way for their British counterparts to welcome them by explaining how itís done in Yorkshire and the other host destinations.
Wahoo Fitness is the leading producer of smartphone powered cycling training equipment and accessories further details at uk.wahoofitness.com