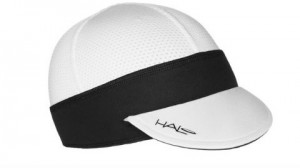 The Halo products – various nifty anti-sweat headbands and bandanas – have been available in the UK for a few years now, but the latest addition of a dedicated Halo Cycling Cap grabbed Cyclo's attention. Exceptionally lightweight at just 40g the Halo Cycling Cap fits comfortably under any helmet with the stretch fabric mesh upper adding little or no bulk and breathing well on the ride. The lower band, also with good stretch, can be worn either above or over the ears – the latter offering a little added comfort to winter rides no doubt.
But, of course, it's the hotter summer months where the Halo is likely to come into its own. The Dryline fabric quickly absorbs sweat and the cap features a short-peak visor that is flexible enough so that, if not required, it can be flipped upwards. With nice attention to detail the peak's upper is white to reflect, whilst the underside is black to reduce glare – unless you choose the all-black version…
So far, so seen it all before? The unique selling point of the Halo Cycling Cap – indeed all of the Halo products – is the patented SweatBlock Seal inside the front of the band that channels sweat backwards and away from the face and, more crucially, the eyes. The SweatBlock Seal might just look like a thin rubber strip (fundamentally it is) but it serves its function without fail.
At £29.95 the Halo Cycling Cap isn't cheap, but it's well made, practical and a credible alternative to constantly wiping your forearm across your eyes. Further details and online purchase at haloheadbanduk.com