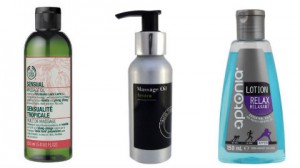 The effort of a long ride or hard training session warrants, if not demands, a little post-exercise pampering and a massage – from gentle warm down to deep tissue – is a great place to start. Everything from the feet to the calves, quads and hams benefit from massage and there are plenty of resources online to teach you the simple techniques to speed recovery and prevent the dreaded DOMS (Delayed Onset Muscle Soreness) that can creep up on even the most experienced of ridesr. With this in mind Cyclo looks at three of our favourite massage oils…
St Kitts Arnica Massage Oil - The St Kitts Herbery was founded by Susan & Paul Johnson back in 2001; initially a true kitchen-table enterprise that has now grown enormously but stayed true to its original ideals, creating high quality botanical products using largely traditional methods. There are those that swear by arnica for reducing bruising and if you're amongst them then the excellent St Kitts Arnica Massage Oil is the one for you. Even if you doubt the properties the addition of lavender, birch tar and rosemary to the grape seed, sunflower oil base makes for a silky smooth massage that smells good too and is popular with physiotherapists.
A 100ml pump bottle of St Kitts Arnica Massage Oil retails at £9.95, details and online purchase at stkittsherbery.co.uk
Aptonia Relax Lotion - If you're looking for pure simplicity at a low price the Aptonia Relax Lotion is an all-round massage oil, good for both warm-up and cool-down. The combination of glycerin, and hydrogenated castor oil makes for a smooth application and the viscosity works exceptionally well if used in conjunction with massage tools like The Stick. The use of linalool, alcohol denat base and menthol in the mix goes some way to providing a cooling effect on the skin and the addition of various citrus notes takes the edge off. Really at the opposite end of the spectrum to the bespoke nature of the St Kitts offering but, for the price, a trusted addition to the kit bag.
Aptonia Relax Lotion comes in 150ml bottles at just £3.99 and is available instore at Decathlon and online at decathlon.co.uk
Body Shop Sensual Massage Oil - Don't let the Sensual bit put you off (or maybe it hasn't) because despite being described as 'ideal for couples' and being inspired by traditional Polynesian massage rituals this is a solid candidate for post-exercise recovery. Being Body Shop the list of ingredients looks somewhat arcane and takes some deciphering – 'helianthus annuus seed oil is sunflower oil by any other name – and it certainly packs a lot in. The mix is well judged for either a simple hands-on massage or a deeper trigger point massage with (non-sensual) massage tools and the smell, which at first feels a little overpowering and difficult to place, actually grew on us after a few sessions.
A 150ml bottle of Body Shop Sensual Massage Oil retails at £10 and is available either in-store or at thebodyshop.co.uk