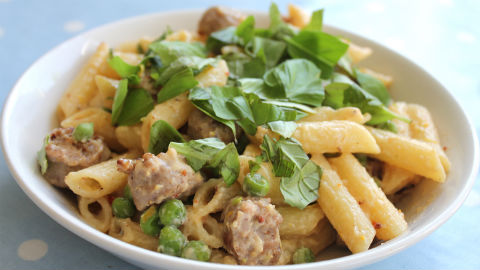 Our Nutritionist says:

"After a hard evening training session this is a quick, tasty and no-fuss way to get the protein, energy and electrolytes you need to recover effectively. Add kidney beans and/or extra veg for more vitamins, minerals and healing antioxidants."

Joel Enoch, Sports Nutritionist – joelenoch.co.uk
Ingredients: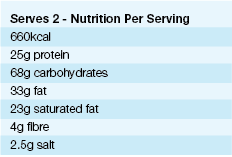 150g penne
25g frozen peas
4 pork sausages
Pinch of sea salt
1/2 tbsp virgin olive oil
Chilli flakes or chopped fresh red chilli
Zest of half a lemon
1/2 tbsp wholegrain mustard
100g half-fat cre?me frai?che
Handful of basil leaves
1. Bring a large pan of water to the boil, adding a small pinch of sea salt. Cook the pasta as per packet instruction (reduce by 1 minute for a more authentic al dente Italian style.)
2. As the pasta cooks, de-skin the sausages and take out the meat, chopping roughly into small pieces.
3. Heat the virgin olive oil in a large pan (it needs to be big enough to later add the pasta), add the chilli flakes or chopped red chilly and the sausage meat, cooking gently for 5 minutes.
4. Two minutes before the pasta is ready add the frozen peas to the pasta water and cook together.
5. One minute before the pasta is ready add the lemon zest, wholegrain mustard and cre?me frai?che to the sausage pan, reduce the heat and simmer gently.
6. Drain the pasta and peas, tip into the sausage sauce, season with black pepper and stir together.
7. Serve sprinkled with the torn basil leaves.
Download the Recipe HERE