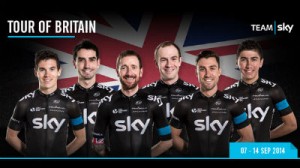 Team Sky have announced that Sir Bradley Wiggins will lead Team Skyís squad at the 2014 Tour of Britain, which begins in Liverpool on Sunday September 7. Wiggins returns to the Tour of Britain after winning the race in 2013 and this year he will line up alongside fellow British riders Ian Stannard and Ben Swift as part of a six-man squad. The full Team Sky squad for the 2014 Tour of Britain will be: Bradley Wiggins, Ian Stannard, Ben Swift, Bernhard Eisel, Sebastian Henaoa and David Lopez.
Wiggins comments on the event: ĎThe Tour of Britain is a special race for me so to be returning as defending champion is a real honour. Itís always been a tough race but the support we receive from the fans is incredible, and itís our home tour so Iíve always enjoyed racing it…. From the start of the year itís always been a goal of mine to race to the Tour of Britain. The race is growing in stature year on year and itís our chance to go there with a strong team and race in front of home fans to thank them for their support over the season.í
The 2014 Tour of Britain starts in Liverpool and finishes in London on Sunday September 14, taking in eight stages along the way. September 7 also sees Sky hosting the first ever Sky Ride Liverpool event, where cyclists of all ages and abilities are able to enjoy a fun day of cycling through a traffic-free route in the city centre, which is free for all to enter.
Further details on the Tour of Britain at tourofbritain.co.uk and on Sky Ride Liverpool at goskyride.com
Further information on Wiggins and Team Sky at teamsky.com