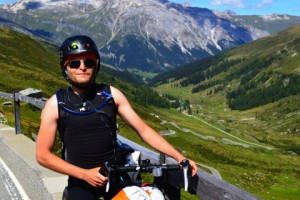 Last January, I was feeling reckless. The kind of reckless that makes you think, 'why the hell not?' and buy bikes and apply for dream jobs and force life to move a little bit faster – I was basically having a midlife crisis at 24.
For years I'd had it in mind to cycle a long way to somewhere. The kind of trip that 'would be great to do next summer', but then never happens. But cue a change in circumstance, a change in attitude, and the asking of that wonderful question: 'Why not?'
I worked out where I wanted to end up – Venice – and what I wanted to see along the way. My planned route would take me through France, Switzerland and Liechtenstein, before cutting south, back into Switzerland, through the Alps and into Italy. I bought a bike (an essential, I figured), I bought panniers and a sleeping bag and solar panels and a helmet. I downloaded all the maps I'd need. And then I trained… 8 months and 2000+ miles of country lanes and rolling hills later, and I was ready.
On August 18 I was stood with my bike and all my gear in a queue of cars and motorhomes, waiting to board a ferry to France. The pipedream was being realised, and it was the oddest feeling.
Day one was 95 miles of small towns and open farmland, followed by a terrifying night 'sleeping' in a small wood just outside Arras. I determined never to sleep rough again. There were things in that wood and as much as I told myself they were deer, I'm still not so sure that I lacked human company. Unsurprisingly, I was up early with a little over 100 miles to cover to get to Reims, where a hostel bed and good food awaited.
I had two nights and a full day in the old city, and they were wonderful. I drank champagne; ate like a king, and slept like a baby. On the second evening I followed a tip to go to the Cathedral at 10pm. When I arrived, about 100 others – well stocked with wine and cigarettes – sat or stood around; looking up at the building, lost in the darkness. Then it all sprang to life. The following 20 minutes were a glorious blend of music and projected light and colour, which needed to be seen to be appreciated.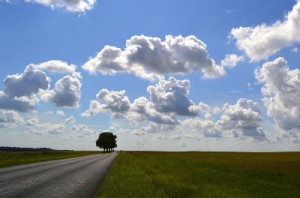 The following morning I began four days of hammering through France, hopping from campsite to campsite. Mile after mile of straight roads and rolling inclines. God, those French roads were dull. So dull that, after a couple of days, my sat-nav decided to take me on a much more 'interesting' route.
Tarmac was replaced by gravel. I checked the map, but, yeah, that was the road, and yes, it went where I wanted. I ploughed on. By the time the gravel had become dirt track, I was too far down the road to turn back. Woodland replaced farmland, then the road vanished amongst the trees – I made it out, but I never quite trusted my sat-nav again.
After the unexpected beauty of the Alsatian mountains, I made it to Switzerland, and crossed the country in a day. Zürich was my halfway point, and – though my credit card would say otherwise – was just what I needed. I'd covered more than 500 miles in 6 days riding, and needed the rest. My hostel was good; the chocolate was better, and I wasted a day reading by the lake and looking across to the mountains beyond.
On day 9 I set off in great spirits. So what if my morning coffee had cost me 6.90CHF (about £4.50) and I had intermittent, yet crippling, lateral knee pain? It was nothing industrial strength ibuprofen couldn't fix and I'd cycled to Zürich in a week. I felt awesome!
50 miles later, at the top of my first Swiss mountain, my chipper mood snapped, along with my chain.
Enter Marco, the builder. I'd been talking to him whilst I ate my lunch and I barely had time to thank him for his offer of help before my bike was in his truck and we were on the way to the bike repair shop in the town below. An hour later, I was back at the point where the chain had snapped, a new one fitted, and shaking hands with the modest man who'd saved me a great deal of hassle.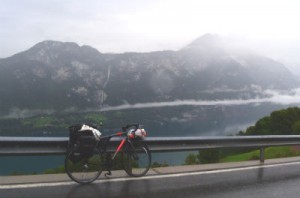 Two days later, I'd crossed into Lichtenstein, slept in a barn and was back in Switzerland; steeling myself for what was to come. I was at the foot of Splügenpass – 21 hairpin turns that drag you 7000feet into the air. If you've never ridden a high mountain pass, do it: the views are incredible; the feeling indescribable, and when the soundtrack is as good as mine was (Blue Swede's 'Hooked on a feeling' heads my 'Mountain' playlist) the shocking inclines get lost amongst the experience. I reached the top and rolled into Italy.
The following days are a blur of blazing sunshine, lakes, and ferocious storms. I swam in naturally warm water for the first time; I discovered that Italian coffee is €1 a shot, and barely slept because of the weather. I visited cities I hadn't meant to (Bergamo's high Medieval plateau was a surprise I'd happily repeat), and got lost on a road network that was being completely overhauled.
When I reached Verona and my B&B on day 16, I'd covered 1000miles with fatigue starting to bite, and by the time I reached Padua two days later I was exhausted, but just 30miles from Venice.
Enter my second chance encounter of the trip. As I cycled around Padua's impressive main square, I overtook other cyclists who obviously weren't so desperate for pizza as I was. I rang my bell as I passed. One man didn't hear. Neither did he look. Neither did he signal before he swung across the road in front of me…
The crash severed my rear cassette's transmission cable, bent my left handlebar and buckled my front wheel. I was angry beyond words. There wasn't enough damage to make the bike un-rideable, but it was hassle that a tired man doesn't need. The police took their report, and my insurers would cover the cost, but my last day's ride wasn't the triumphant parade that I'd hope for.
Still, as I crossed the long bridge into Venice, I couldn't help but let it all sink in. I'd made it. 1140 miles. Job done.
Not quite.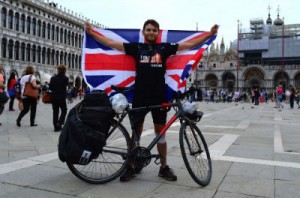 It turns out Venice is a maze – a maze that hates two wheels. I arrived to locals gesticulating violently, telling me to dismount. So I walked the final mile and a half, carrying the bike through tight streets and over endless bridges. I battled through the crowds until, finally, at 11:57 – 17days, 23hours, and 57minutes after leaving Calais – I stepped across the finishing line at St Mark's Square, exhausted and elated in equal measures.
Three days and four trains later I was home. Over three weeks, I cycled across Europe on my own, and arrived home safely at the end. Yeah, I had a crash. Yes, it rained a lot of the time and wasn't a laugh a minute. But I met people. I saw things, and rode passes and bridges and incredible roads that I may never ride again.
I drank too much coffee, got ridiculous tan lines, and spent more money than I meant to. But it was all worth it. The experience is one I'll draw from and build on for the rest of my life, and will remind me to always ask the question, 'why not?'
Feature by Max Howells – More on Max's adventures at nonsensepeddler.tumblr.com