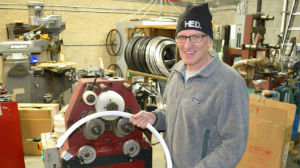 Steve Hed, the early pioneer of carbon fiber and aerodynamics in wheel design, has died at the age of 59. He was at the vanguard of wheel design, developing carbon fiber disc wheels and carbon fiber tri-spoke wheels and patenting the 'toroidal' rim design that still remains popular today.
It was his attention to detail when it came to wheel performance in wind that brought Hed to the attention of many pro riders including Lance Armstrong who consulted with him for many years and helped raise the profile of the nascent company. Armstrong tweeted on the news: 'Shocked and saddened to learn of the passing of Steve Hed. I loved him dearly as did everyone who ever met him. We'll all miss him.'
He clashed frequently with his many competitors – his innovations and strong-headed opinions often feeling at odds with the general trends – but his reliability as a designer and success as an independent businessman meant he was always greatly admired.
Chad Moore, Mavic's director of marketing, comments: 'Calling Steve Hed an icon in cycling innovation would be an understatement. He consistently set benchmarks that drove all of us to build better products. We will miss his passion and his presence and send our best wishes and deepest condolences to his family, friends and fans.'
Image © HED Cycling.