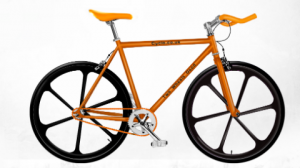 Back in October Cyclo reported on the news that Dublin-based custom bike manufacturers Funked Up had been awarded the prestigious 2014 Propeller Venture Accelerator program. Thankfully we were also able to get our hands (and feet) on one of their bespoke single-speeds to put to the test.
Funked up produce both 'fixie' and single-speed bikes. For those not in the know about the difference the latter is fundamentally a 'regular' bike but without gears, whilst the former is a bike with the rear cog fixed to the rear wheel hub and therefore without the ability to freewheel. Both flavours have a growing fan-base and Funked Up seem especially geared-up (sorry) to capitalise on the zeitgeist trend.
The unique selling point for Funked Up is the deep level of customisation available with a seemingly infinite number of element combinations on offer via the website. Starting with an absolute basic blank canvas for about £390 the incredibly slick and responsive site allows you to select handlebars (drop, bullhorn, etc.), wheels (standard, deep v or mag) and a innumerable colour combinations for everything from the chain to the rims. That's eleven separate elements to 'colour in' for yourself like a bike-obsessed toddler – if you really let yourself go the results can be truly hallucinogenic…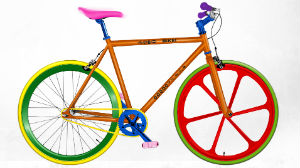 Next step is the graphics. If you don't want the standard Funked Up logo on the top and bottom tubes you can customise things with 16 characters on each; that means you can add your name, company name or even include various mini logos such as 'smilies' and Superman badges. Go wild.
Okay, so regrettably we didn't get to choose any customisation for our test single-speeder but we were sent a beautifully metrosexual model with pink rims, saddle and bar grips.
Out of the box the Funked Up presents at about 80% assembled and is also exceptionally well packaged with protective niceties to ensure that your new and expansively (but not really expensively) customised bike arrives in pristine condition. 4 and 5mm hex keys plus a 15mm wrench are required for what little work needs doing to get you up and riding – peddles attached, seatpost/saddle dropped in, handlebars slipped into place and front wheel attached; no more than a 10-minute job even accounting for the bell and wheel reflectives.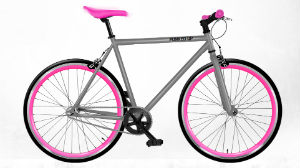 The bike proved a joy to ride, the build quality is exceptional and the lack of gears surprisingly quick to adapt to – certainly ideal for commute and city riding. Weight is also relatively modest at around 11kg. On test we were regularly treated to the kind of 'nice bike!' shout-outs you might normally expect if you had just dropped ten grand on a stack of carbon; a Funked Up bike, it would appear, comes with near-instant cult celebrity status. We could easily get used to this.
The one tiny niggle Cyclo might highlight would be the bog-standard zip-ties for securing the rear brake cables; they seem very utilitarian for a bike which otherwise boasts such city-clicker coolness.
If you fancy something pre-designed Funked Up have a small range on offer including the 'Fresh' and 'Rumpofsteelskin' for around £310 whilst designing and customising your own (many fun hours on the website) will range from £390 to a little over £500 for top spec. As a bonus, at time of writing, delivery within the EU is free.
It has been both a surprise and a delight to put the Funked Up single-speed through its paces and we'll miss it once it's gone. Perhaps we're ready for a true fixie – something many argue is the purest form of cycling. There's always 2015 to find out.
Full details of Funked Up at funkedupfixies.com and you can follow them on Facebook and Twitter too.