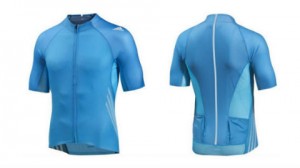 Launched with a storm of publicity and a nifty viral ad campaign the Adidas adiZero Jersey is promoted as the lightest cycling jersey on the market. Whilst itís unbelievably light, does it really stack up and can they honestly justify £120 price tag for it?
Okay, so itís all about the weight and at just 65g the Adidas adiZero Jersey is around half the weight of a traditional cycling top Ė thatís impressive to say the least and the adverts made much of this by floating it from a helium balloon. In fact even that visually striking image doesnít prepare you for the first time you pick it up Ė itís like Tolkienís Mithril. Adidas are understandably coy about what the lightweight mesh material actually is but if you can imagine a cross between nanotechnology Lycra and tissue paper youíre pretty much there.
The back and underarm sides are even thinner mesh for added ventilation whilst rigidity and form comes from the tri-stripe print down either side and the single heaviest feature is the zip. Comfort, it probably goes without saying, is outstanding Ė mostly because itís like wearing nothing at all.
Despite the gossamer construction the Adidas adiZero Jersey provides adequate wind protection and arguably enough coverage for a summer ride, although itís unlikely to make an appearance from the kit cupboard beyond say the end of August. One downside of the material (apart from itís eye-watering cost) is that itís ability to wick sweat falls short; thereís just not enough material between skin and air to drawn moisture away and have it blow dry in good time.
Of course cyclists are obsessed with weight (and probably to a greater degree cake) so the Adidas adiZero Jersey will undoubtedly find its market amongst the carbon fetishists. In the weight department it is impressive in every way imaginable and style-wise it ticks the boxes in an equally minimalist, stripped back fashion but beyond height of summer use and perhaps velodrome training and racing the price tag feels tough to defend.
That said, weíre still glad to own oneÖ
The Adidas adiZero Jersey retails at £120