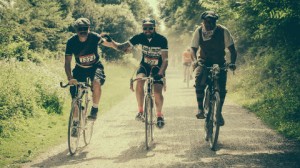 Anything you can do we can do… well, in a different but equally intriguing way. Eroica Britannia is inspired by the original L'Eroica (The Heroes) born in 1997 to celebrate Tuscany's Strade Bianchi – White Roads – with the UK version blending a love of cycling, history and the environment into one jam-packed weekend event.
Like its Italian cousin Eroica Britannia adheres to strict rules of 'vintage'. Bikes must be pre-1987, gear shifts on the down tube only, no quick release pedals, even the number of spokes is specified (32 or more please.) Vintage or 'era-specific' clothing, although mentioned generally in the rules, is so ubiquitous as to be practically compulsory. We assume it's up for friendly debate whether your reproduction gear is convincing enough.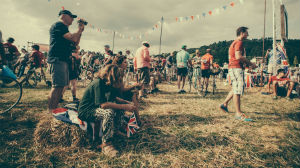 As it moves into its second year, the 2015 Eroica Britannia will feature three days of family focused festivities celebrating the 'Best of Great Britain.' The line up includes live music and entertainment, shopping at the 'British Bazaar', the 'World's Greatest Bike Jumble', Food Festival and Sports Day. The main attraction is, of course, the rides of 30, 55 and 100miles over the white roads and gravel tracks of the beautiful Peak District. Villages on route will be holding their own mini festivals as well as providing much needed refreshments.
All routes start and finish in Bakewell on the banks of the River Wye and head on to the Monsal Trail, which for most of it's length, follows the course of the Old Midland Railway line (complete with tunnels) through the heart of the Peak National Park. The route then takes all riders through Millers Dale where the fun really starts. You choose from:
The Short Route
A 30mile option with an ascent of 2528ft (771m) and an off-road element of 25%; refreshment stops are at 14 and 21miles. Described as: 'a great choice for riders of all levels of fitness. It is fairly undulating but definitely enough of a stretch to give you a challenge'. Don't miss out on Eyam the famous 'plague village'…
The Medium Route
55 miles with an ascent of 6113ft (1864m) and an off-road element of 30%; refreshment stops are at miles 20, 37 and 52. Much more of a challenge, this route is billed as: 'a bit more adventurous and does require you to be reasonably fit.' You might consider a stop at Hartington Village a bustling market town and the home of Stilton Cheese; you may need it as the next stage is all uphill to the Tissington Trail.
The Long Route
At 100miles with ascents totaling 9252ft (2821m) and an off-road element of 25% (refreshment stops at 10, 37, 51, 63, 78miles, and finally Chatsworth House at the 94 mile mark.) Eroica Britannia say this is '…a real challenge which covers all the very best of the Peak District National Park'. The route features a number of climbs including a 2-miler over the dramatic Mam Nick rising to 15% at points.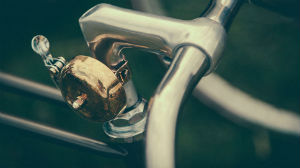 So, to the details: Eroica Britannia is centred on The Bakewell Showground, Bakewell, Derbyshire, starting on Friday June 19 and running until Sunday, June 21. The inclusive ethos is underpinned by the ticketing policy that enables a family of four to park, camp and enjoy the three days and nights of the festival for under £100. Tickets for the rides cost an additional £60 and are going fast and are best booked in advance online.
Although marketing statements like bringing the '…Handsome back into British Summertime life' and finding the '…romance of heritage, sustainability, environment and lifestyle' might make it sound like hipster hell, don't be put off. Any event that attracts 200 vendors, 2,000 riders and a crowd of 30,000 in its first year must be doing something very, very right.
Cyclo will be dusting off that 1970's Peugeot, knitting some woolen shorts, and heading for the Peak District…
Further details and tickets for Eroica Britannia at eroicabritannia.co.uk