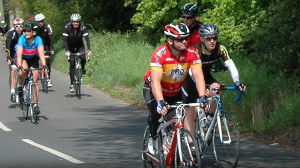 Run over the May Bank Holiday weekend Pedal Norfolk is a 4night/3 day cycling festival based around the stunning Holkham Hall estate on the North Norfolk coast.
The Pedal Norfolk event features 3 sportives – 100miles on Saturday May 2, 100miles on the Sunday and 50miles on Monday, May 4. 50- and 20mile options are also available on all events or, for something less competitive, you could just use the many tracks that criss-cross the 25,000 acres estate. If you are of the 'Tri' persuasion you might even take a dip off the 'Best Beach in the UK'.
If you're tempted by a 250mile weekend by staying for the three days you can camp on site. The camp-site is available for £20 per night and provides full facilities including food and those all-important hot showers.
The annual highlight for many will be Emma Pooley, Olympic and Commonwealth Games Medalist. Pooley will host an evening QA session and will be joining competitors for the full 250-miler.
The 3-day ride tickets for £90 include camping, great Norfolk food before, during and after riding and entertainment each evening.
More details on Pedal Norfolk are available at pedalnorfolk.co.uk