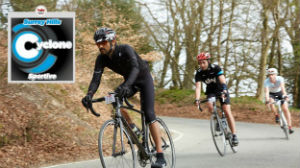 Fancy a spring challenge? The Cycling Weekly Surrey Hills Cyclone on Sunday March 29 takes in some of Surrey's finest countryside and more than a few decent climbs. Starting from Dorking you get straight into the Surrey Hills, which can reach 20% in parts.
One of the Cycling Weekly Sportive Series, the Sportive comes in three flavors, the 86mile 'Epic', the 60mile 'Standard' and the 28mile 'Short'. All routes are advertised as 'suitable for a wide range of riders' but the hills of the Epic and Standard might be a bit too much for the casual rider. Having said that all routes should be suitable for any rider with a reasonable level of fitness and preparation…
The Epic route includes some of the south of England's most iconic climbs including the notorious Whitedown, which kicks up to around 20% at the finish. The Standard takes in all of the climbs of the Epic route and it's lesser distance shouldn't obscure the fact that it's almost as challenging.The Short route spares you the Barhatch and Leith hills but adds an extra climb at Albury Hill to warm you up for Whitedown.
After that it's back to Dorking for refreshments, massages and a medal for all finishers. Tickets on sale now at £35 for the Epic and Standard, £25 for the Short course. More detail and tickets at ukcyclingevents.co.uk