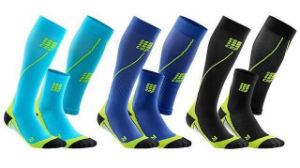 CEP has announced that both new products and colour ranges are being added to their signature compression collection including the CEP Ultralight socks and calf sleeves, and the CEP No Show socks. The news comes following record sales of CEP products at the Virgin Money London Marathon.
The Ultralight socks and calf sleeves are designed for athletes seeking 'marginal gains and ultimate performance' and are made using a material that is 25% lighter and more breathable than other items in the range, whilst the No Show socks sit snugly just below the trainer line and feature extra-flat toe seams and additional heel padding. In terms of new colours, which feature across their calf sleeves, short socks and run socks, CEP are adding Hawaii blue, purple blue, and black – mixed with green for men and with pink for women.
Commenting on the new lines Matt Davey, Brand Manager of CEP UK and Ireland says: 'This is an incredibly exciting year for CEP, and these new product developments are simply the start of a jam-packed season for us. We look forward to sharing more with everyone in the next few months, as the brand continues to go from strength to strength.'
Further details of the new range and existing CEP products at cepsports.co.uk and, for social media, on Facebook, Twitter and Instagram.