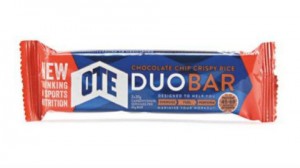 Odd in many ways that OTE are not a better-known brand, partly because they are the official nutrition partners of Team Lotto Jumbo, but also, if the Duo Bar is anything to go by, their products are really rather good…
The OTE Duo Bar has been developed by professional sports nutritionists and is based on race food used by professional cycling teams. The 65g bars – we had the chocolate chip to test out – are pre-sliced into two equal bites, with each serving up approximately 20g of carbohydrate, enough we would figure to push through around 40minutes of training or racing depending on intensity.
The texture of the Duo Bar is crumbly with a homemade appeal, slightly on the dry side and certainly needing a swig of water to consume, but the taste is decidedly good without being overly sweet. The nutrition, beyond the 40g carbs per bar (18g of which are sugars), also stacks up quite neatly: 10g of protein, 1.5g fibre and decent levels of fortification including B12, calcium and magnesium. Although most of the supplementary levels are quite low it all helps, especially when it comes to replacing even small amounts of body salts lost through sweat.
Whilst the Duo Bar is certainly too dry to depend on alone during exercise – we really got through the water bottle on test – it's certainly worth adding to the list of nutrition foods to help power your training and racing.
An individual 65g OTE Duo Bar, chocolate or vanilla, retails at £1.85 with boxes of 24 available at £39.96. Further details and online purchase at otesports.co.uk