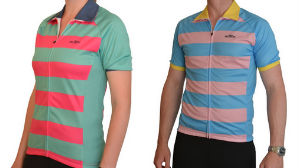 We love it when people take matters into their own hands and that's exactly what the founders of Peloton did when they couldn't find anything on the market that fitted their desired cycling jersey criteria of 'practical and classically stylish.'
Creating their own range – currently with four colour-way designs for men and one for women – using 100% BioActive Polyester Coolmax fabric, which works hard at wicking away the sweat of the ride, the results are highly pleasing.
The fit is slim and snug but the fabric moves freely and doesn't restrict movement in the least, and the flat-lock seams add to the overall comfort. The high collar is an unusual design feature, more at home on a casual tee but actually, it could be argued, adding to protection from the sun and certainly helping with the general aesthetics that set this range apart from the pack.
The zip runs full length, so plenty of bare-chested (for the men?) opportunities if the weather really demands but if we were being picky a 'zipper garage' at the top would really improve comfort, especially as these jerseys zip all the way to the top of the tall collar and there's a tendency to feel it dig in here. Cuffs and waist are elasticated, with the latter featuring rubberised hem to stop the jersey from sliding up.
The standout feature for us – beyond the rather natty design/colours – is the pocket configuration at the back. There are two really generous volume mesh pockets for gels, bars and the like, plus a further two large zipped pockets sitting over the back of those for keys, phones and other valuables. It's a lot of storage and we were pleased to find that, even when packed to the max, the Peloton jersey remained exceptionally comfortable.
Despite the zip quality not being quite there yet, Peloton have done a really credible job of bringing to market a product that combines style with substance.
The Peloton jerseys retail at £64.99 just about the mark we would expect for the more bespoke look and feel of apparel of this quality. Further details and online purchase at pelotoncycleclothing.co.uk