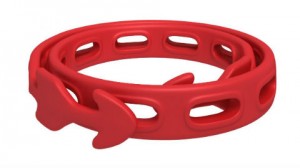 The cycling world is undeniably full of some pretty sexy kit – weather-defying materials, carbon components, high-tech gadgets and the latest nutritional science. It's equally undeniable that there are some mundane issues that need to be addressed and some kit that really can't be described as anything but functional; Quickstrap, part of the Quickloader family of products falls squarely into that category.
The Quickstrap is a unique strapping system that probably has a dozen applications for cyclists – although in all honesty Cyclo have only, so far, used it only for added securing of bikes to car-racks and for garage storage support. Pretty sure you'll come up with other applications (let us know…)
A couple of things set the Quickstrap apart from more conventional strapping systems. Firstly there are no hooks, buckles or other fasteners to tackle, the Quickstrap just wraps around and through itself making attachment and removal a doddle. The lack of any metal or plastic components means that there's nothing to scratch or dink the bike (or whatever you're securing) and the rubberised material won't crack or harden with age, meaning a set of these are likely to last you years.
Sold in sets of two for £11.94, each QuickStrap is 90cm long and capable of supporting a load of around 50kg (120lbs); they can also be linked together in various combinations as the situation requires.
There you go: not sexy, but incredibly useful and versatile.
Further details of the QuickStrap at quickloader.com and online purchase via aspli.com