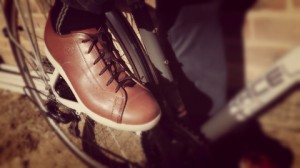 Quoc Pham, purveyors of 'classically-inspired, hand-lasted cycling shoes', first came to our attention when they launched with the 'fixed' touring shoe around five years ago. Although a beautiful piece of kit the need for retro toe-clips made for limited appeal.
Since then the company has expanded the range to include SPD compatible shoes including the Urbanite. A classic and clean looking shoe with leather uppers and a stiff rubber sole, the Urbanite comes in 'Low' and 'Mid' models, with the Mid offering a higher, desert boot-like, shape and the Low more easily passing for a rather smart pair of sneakers.
We road tested the Quoc Pham Urbanite Low for a week using various SPD equipped bikes.
The company claims that by using leather the shoe softens, and moulds to fit with use. Even after just a week it was clear that this was no exaggeration. The hardened mid-sole gave a secure and effortless pedal action and was perfect for the average commuter ride. Encountering wet, cold, warm and windy weather it was clear that the Urbanite was snug and wind resistant but stayed cool in the heat and once off the bike we quickly forgot they were anything but a normal, high-quality, pair of shoes.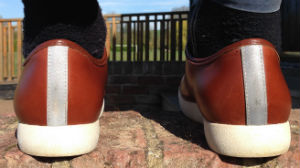 Apart from the clean styling the attention to detail also impresses. Fitting the SPD clips on the sole was effortless and the reflective strip on the heel is a nice touch. The addition of an elastic strip on the tongue makes sure laces stay away from moving parts.
We tested the Quoc Pham Urbanite Low in tan but black and brown are also available if you're looking to colour coordinate your classic, retro look. The upper is Leather with a leather lining and the shoes also feature a reinforcement mess inner layer, lace closures and 3M reflective heel stripes. The sole is moulded rubber with a full-length hardened mid sole, and a wide base for extra comfort, whilst the sockliner is made from natural cork. They weigh in at 450g (size 43.)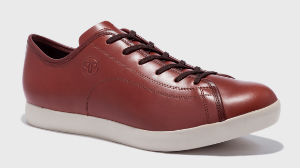 If you are looking for an all-day shoe for commuting the Quoc Pham Urbanite does the job in a comfortable, understated way that undeniably adds a dash of style to the ride.
The price of £169 compares favourably with competitors such as the Giro Republic LX and the Dromarti Sportivo.
Further detail and online purchase of the Urbanite and the full range of Quoc Pham shoes at quocpham.com
You can follow Quoc Pham on Facebook and Twitter too.