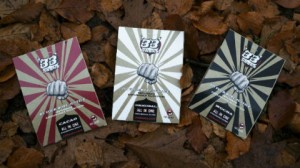 33Shake are really talking up a storm – we've heard about 'revolutions' in sports nutrition so many times over the years that there's now something of an immunity to the rhetoric; but given the incredible press that 33Shake are generating perhaps this is a brand that really mean what they say.
As relative newcomers to the market and describing themselves the 'sports nutrition underground' their stance is certainly combative with claims that the sports 'no-trition industry' simply: 'Take a ton of cheap manmade sugars, blend with a negligible amount of the cheapest active product at the lowest concentrations possible, then pack with whatever junk additives and preservatives are needed to keep costs down and shelf life up…' Fighting talk, so what do 33Shake do differently?
Pretty much everything it would seem. By spending money only where it matters – so in part allowing good word of mouth to spread the word – 33Shake are able to spend 17,000% more than industry norms on ingredients. Depending where your priorities lay this is noticeable in two key areas: the quality of what you're putting into your body is second-to-none and the taste is exceptional.
The flavour across all three varieties of the Endurance Shake (Original, Mocha, Cacao) is strong – not overpowering – but certainly robust with layers of flavour coming through like little, alternating ripples. This is a homemade taste – absolutely what the makers were going for – that makes you appreciate the quality and realise how artificial so many inferior products are by comparison.
The 55g sachets can be mixed to taste with a recommended 200ml of either milk, water or coconut milk by blending for a full minute to help break down the naturally chunky mix. We tested all three methods but found that milk (actually soya milk) worked best, with water our least favourite and coconut milk, whilst adding plenty of benefit in its own right, dominating the flavour rather too much.
In terms of nutrition, as that's really where things stand or fall, 33Shake delivers impressively. The headline figures show (per 100g) 521Kcal of energy, 11g protein, 38g of carb – of which 14g are sugars – 27g of fat (9g of which are saturates) and 13g of fibre. We say here 'headline figures' because to really understand the benefits – and substantial differences to other products – the 33Shake website really deserves to be explored in full.
The 33Shake Endurance Shake isn't cheap at £6.99 a go, but when you consider exactly what you're getting for your money it stacks up well in our opinion. And ask yourself this: what price am I willing to pay for the nutrition I fuel my sport with?
The 33Shake All-in-one Endurance Shakes are also available in a ten x shake Value Pack bringing the per-shake price down to £6.49 and a 30 x shake Lifestyle Pack (£5.99 per shake). Further details and online purchase as 33shake.com