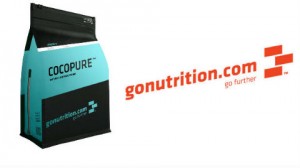 Coconut water is an excellent and natural isotonic drink and Cocopure from gonutrition sets out to deliver all of the goodness in a more convenient form than slicing the top off a coconut and sticking in a straw.
Shipped in a 250g quantity – enough for 35 servings – Cocopure contains 100% powdered coconut water that is rich in electrolytes, the 'body salts' sweated away during exercise. Because the levels of electrolytes, particularly potassium and sodium, are approximately in proportion to those of the body Cocopure is naturally isotonic meaning it quickly (but not too rapidly) rehydrates the body. Coconut water – and therefore Cocopure – also contains natural calcium and vitamin C along with a health amount of sugars (around 2.6g per serving) to help refuel post-ride.
7g of Cocopure needs to be added to 100ml of water to optimum delivery although we personally found a little extra water, closer to 120ml, provided a slightly less intense and more palatable flavour. The taste is certainly authentic – as you would expect from 100% coconut water powder – and although it mixes thoroughly, it does have a tendency to settle if left in the bottle too long.
A single serving of Cocopure delivers 10% RDA of potassium and 30mg of sodium, which (at a conversion of x 2.5) equates to 75mg of salt of the recommended daily 6g. Of course adding a little more or less water will transform the drink from isotonic to either hypotonic or hypertonic depending on your requirements.
If you want to add some additional fruit sugars post-workout we found that Cocopure mixed well at a 50:50 ration with natural pineapple juice for a recovery drink that tasted good enough to stick a cocktail umbrella in.
Cocopure might seems a step further away from 'authentic' products like market leader Vita Coco, but it still delivers a 100% pure product just with a dash more convenience. Our only real criticism is that the 250g quantity ships in an enormous (and enormously wasteful) pack easily big enough to accommodate a kilo that slightly undermines the 'take anywhere' credentials.
Cocopure retails at £16.99 for a 250g pack or £28.99 for 500g, and represents good value at 41-49p per 100ml serving. By way of comparison Vita Coco is approximately 50p per 100ml (depending on the quantity in which you buy it) whilst alternatives like UFC Refresh can be had for as little as 24p per 100ml. But did we mention that Cocopure comes with added convenience?
Cocopure is available to buy online at gonutrition.com