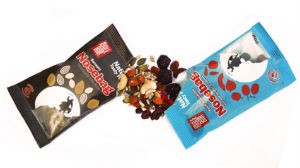 Nosebag is the latest nutritional offering from MuleBar; available in two flavour combinations Tamari Nuts with Seeds and Fruit Avalanche they contain no synthetic ingredients, artificial preservatives, colourings, flavourings or palm oil Ė just real food.
Starting with the Tamari Nuts that offers up 417kcal of energy with 33.1g fat (4.3g saturates) with 12.6g of carb of which 2.3g are sugar. Thereís a decent hit of protein too with 14.5g from the combination of pumpkin seeds, cashews, almonds and apricot kernels, which are coated in tamari (a variant on soya sauce.) Whilst the fairly generic seed and nut mix are nothing unusual itís the tamari apricot kernels that set things apart with a delicious tang that lingers in the mouth and has you reaching back for another hit. A more generous ratio of these to the other ingredients would certainly have been a good thing.
On to the Fruit Avalanche: Obviously these are going to deliver far less energy than the nut-packed option but at 207kcal that still tops most gels including, for example, MuleBarís own Cherry Bomb (112kcal.) Again fairly obviously the protein levels are down on the Tamari Nuts option at 2.9g but so too are fats at 2.2g (0.3g saturates.) The fruits that make up this particular Ďavalancheí are raisins, apricots, and dried cherries, gooseberries and goji berries. The taste actually left us slightly disappointed Ė itís far from bad and thereís a nice sharpness (the gooseberries?), itís just that MuleBar have set their own bar so high in serving up more left-field options we half expected popping candy or unicorn tears.
The 70g bags allow for several generous handfuls on the ride and whilst it would obviously be cheaper to rustle up your own custom trail-mix thereís both convenience and the knowledge of excellent quality ingredients with Nosebag.
Both varieties of Nosebag retail at £19.60 for eight packets or £35 for 16 packets. Further details and online purchase at mulebar.com
More reviews of MuleBar products here.