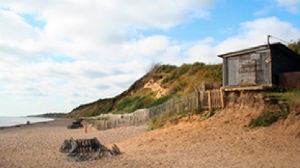 From Revolution Events who brought you the Tour de (Norfolk) Broads and the Parsons Peddlar, comes the new Dunwich Doubler weekender. Set in the beautiful village of Dunwich in Suffolk there are three rides over the weekend.
Saturday and Sunday offer an 80mile 'Epic Ride', plus a 'Challenge Ride' of 25 miles on the Sunday, thus making sure there is something to suit everyone. Prices are £20 for the Epic and £12 for the Challenge and include one drink stop, one food and drink Stop and a finishers T-Shirt.
For the true 'Doubler' experience you can enter the Epic on both days for £70 and get extras including Tent & Pitch for Saturday night provided by the organisers, an evening meal on Saturday, breakfast on Sunday and access to showers and secure bike storage. There will also be a 'unique Dunwich Doubler memorabilia just for you (announced soon)' for everyone who completes the Doubler.
The Saturday route will take riders from the Suffolk 'Sunrise Coast' due west to Stowmarket and back via the historic town of Framlingham. On Sunday the ride takes a southern route to Felixstowe via Sutton Hoo and returns via the coastal Nature Reserve.
Full details of the Dunwich Doubler at revolutionevents.co