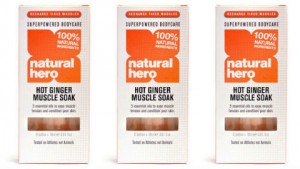 Having launched with Hot Ginger Muscle Rub and Cool Peppermint Muscle Spritz, both very good, Natural Hero added Hot Ginger Muscle Soak to their offering. Never wanting to pass up a hot bath in the name of work, Cyclo took the plunge.
Whilst both the Hot Ginger Muscle Rub and Cool Peppermint Muscle Spritz boast 98% and 99% natural ingredients respectively the Natural Hero Hot Ginger Muscle Soak goes the full distance with 100% credentials. This means there are no parabens or added sodium laureth sulphate (both cosmetic and toiletry staples) to worry about. What the soak does contain is a blend of premium grade ginger root, rosemary, and sweet fennel essential oils that soak tired muscles; the ginger also adds a glowing warmth to proceedings. A dash of sweet almond and starflower essential oils, both of which nourish and condition the skin, are excellent addition when you consider the damage that the elements do to the exposed expanses of the average cyclist.
Look, we're not necessarily suggesting you light some candles and put on a little Katie Melua, but a recuperative soak after a tough race or training session makes good sense as part of the recovery process and Natural Hero's Hot Ginger Muscle Soak ticks plenty of boxes.
Hot Ginger Muscle Soak comes in packs of six 18ml bottles, each good for one soaking. Available online from, amongst others, Amazon.co.uk