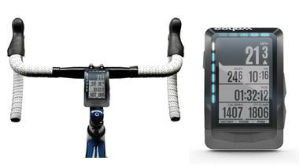 Wahoo Fitness have unveiled the ELEMNT, a GPS-enabled cycling computer designed to 'transform the way people experience and interact with their ride data.' By streamlining the user experience and simplifying the setup process, the ELEMNT allows riders to put the focus back on their ride, providing a seamless connection between the rider and their data.
Designed by cyclists, for cyclists, the ELEMNT packs ANT+, Bluetooth Smart, and WiFi connectivity that allows riders to easily view key ride metrics, navigate a route, track fellow riders' locations in real-time as well as receive en-route call, text and email notifications—all on it's large-format, high-contrast DayBright display. Changing the way riders interpret real-time data, the ELEMNT's innovative QuickLook LED indicators provide visual indicators for critical alerts and data. Fully programmable, the indicators can be set to display metrics such as speed, heart rate, power, turn-by-turn navigation cues and more.
The ELEMNT companion app, available on both iOS and android platforms, automates the ELEMNT pairing and manages the configuration process for fast, frustration-free setup and personalisation.
The ELEMNT, available later this year, will retail at of £279.99
Full details of all Wahoo Fitness products and apps at uk.wahoofitness.com