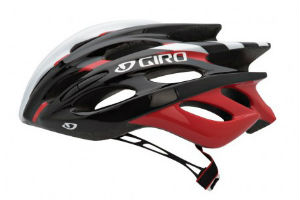 Here at Cyclo we have gone through a ridiculous number of helmets, not because weíre especially careless (honest), but because we love new kit and canít resist. Now the Giro Prolight has become our brain-protector du jour and we have to say weíre quietly impressed. Giro have been producing quality products for more than a quarter-century Ė Lance Armstrong amongst others is a fan Ė and the Prolight, the makers claim, 'Redefines a new generation of ultra lightweight helmets'; at a ludicrously feathery 175 grams (for the medium) thatís probably hard to argue with. Combining Italian-made webbing with Giroís bespoke Roc Loc SL self-adjusting system, which replaces traditional plastic cradle affairs with an elastic arrangement that interlocks with the webbing, the Prolight sports no less than 25 vents to direct cool air in and actively drive hot air out.
At first glance things look a little flimsy but put your faith in the lid and remember, however light, the Prolight has had to leap through the same rigorous safety hoops as a helmet with twice the bulk and weight. In our experience the fit and feel has been fantastic and even those little (mostly unnecessary) micro-adjustments on the fly havenít proven tricky with everything staying just where we wanted it even on our longest jaunts.
So, negatives? Well at the best part of £150 the Prolight certainly isnít a cheap choice and if youíre looking for weight alone as a factor you could opt for the Limar Pro104 Ultralight which slips in at just 5g heavier and a good £20 saving over the Prolight. Having said that, Cyclo would argue that the Ultralight is the less comfortable choice and when it comes to looks (both your own and those jealous ones youíre likely to be on the receiving end of) the Giro Prolight wins hands down.
Available in four colour options: Black/Carbon, Blue/Black, Red/Black, White/Silver.