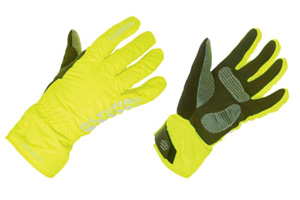 With UK temperatures plummeting – in parts to record lows – Cyclo thought it high time to break out a pair of cycling gloves, specifically some newly received Altura Night Visions, to put them through their winter paces. The brand is synonymous with value (with the Altura Night Vision Gloves coming in at a mid-range £34.99) and the duel-layer and waterproofing credentials look just the thing for the blistering cold.
With the outer constructed of a Nylon/Polyester mix and a 100% Polyester lining, the Alturas certainly coped well with the sub-zero temperatures – almost too well. The thickness (take care to order a slightly larger size to avoid cramped fingers), along with more than adequate wind-stopping properties, actually led to a slightly clammy-handed experience, probably a necessary compromise to be made when you want to keep digits toasty without paying the earth. Very much on the plus side though the gloves proved exceptionally well padded against the bars and the placement of the triple grips – along the length of the thumb, outer edge and finger bases – were perfectly judged for a firm hold.
Available in only two colour choices (black or day-glo yellow) but sporting plenty of well placed reflective trim – hence the 'Night Vision' of the name – these gloves definitely add an extra dash of safety to night riding and with a range of 5 sizes (S to XXL) there should be something on offer for most. Anatomically well designed, it's only a pity that Altura haven't gone the whole-hog and produced gender-specific versions. Horses for courses, and at the price these should provide warm and comfortable riding until sunnier days find us.