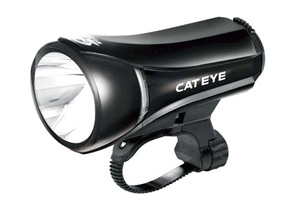 Here at Cyclo we've flirted with Cateye lighting on and off for a long time. The manufacturer has a fine reputation for general reliability, innovation and price range but we can't help thinking that there's something with the Cateye HL-EL530 LED front light that doesn't quite add up. There are certainly plenty of plus points to consider with the model: at around £50 it's a good mid-level price point (downright cheap when you think of something like the NiteRider Pro 700 at ten times the price), it uses the bespoke 'optiCUBE' technology resulting in an almost embarrassingly bright shine for a single LED, and reportedly serves up 50% more light than it's predecessor, the EL-500.
On the downside that spectacular brightness drops off fast (and exponentially) with time – yes, as per manufacturer's claims you may well get close to 90hours of burn on a set of four AA batteries, but boy will you notice a drop well within the 20hour mark. Additionally the one we've had on test over the winter months has developed an intermittent loose connection that has a tendency to plunge us into pitch blackness just when it's least convenient (actually, when is it convenient to be plunged into the dark?) Maybe we've just been unlucky…
A slightly less dramatic complaint is that the gun-metal detailing around the bulb housing that looked pretty cool to begin with has chipped and flaked making it look rather sad and cheap within a pretty small amount of time. There have also been reports of the plastic flanges that hold the bulb housing in place (and mark the point of most stress when unscrewing it to replace batteries) cracking – Cyclo's is so far holding up well, but it is another worrying sign.
Okay, it's not all bad news. At sub-£50 it's robust and bright enough for some general kicking about on your bike – perhaps it's just that we have come to expect more from Cateye…