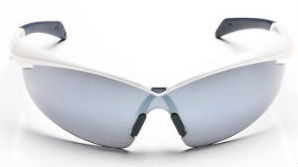 Cyclo loves a good surprise (unless it involves clowns) and testing out the Orao Griffith sunglasses, costing an almost embarrassingly cheap £19.99, has proven one of the biggest surprises of the year.
To be found in the aisles of sporting megastore Decathlon, the Orao Griffith sunglasses could – like a lot of lower-priced apparel and accessories – be easily overlooked as being too cheap to possibly be of quality. Let's not make that mistake – the Orao brand is growing in popularity and those in the know are tipping a nod at the Griffith.
Whilst you might expect sunglasses costing sub-£20 to be a one-piece affair with little in the way of personalisation the Orao Griffith ship not only with interchangeable nose pieces, but three interchangeable polycarbonate lenses. Switching between the lenses is a relatively simple affair – circumventing all of that fiddly tech solution you find on the likes of Oakley in favour of pulling up gently on the top frame or pressing a finger nail into the small hole to release the one-piece lens and clipping in its replacement. Absolute simplicity and it doesn't appear to apply excess pressure on either the frame or lens and because the fingers are really only in contact with the centre it doesn't leave smudges all over the place.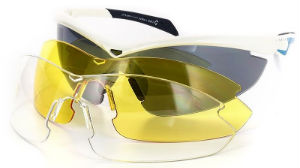 The three lenses that ship with the Orao Griffith sunglasses are smoked, filtering 18% to 43% of light, orange which does a good job of increasing contrast and filters 8% to 18% of light and clear which filter up to 8% of light and are ideal for simple 'windscreen' protection from the environment. All, of course, provide full UV protect and the optics, whilst basic, deliver decent clarity without distortion.
Comfort level is good with soft rubberised tips to the arms adding grip without pressure and the substantial nose piece holding the wrap lens far enough away from the face to help reduce fogging.
Of course there is always some degree of getting what you pay for and those upper end glasses are probably more likely to last you a lifetime – or at least until you leave them at a feed station – but don't be fooled into thinking that a £200 pair of sunnies are going to be ten times as good as a £20 pair. The Orao Griffith sunglasses – which even ship with a soft carry pouch – look set to give even Wiggle's similarly pitched dhb range a run for their money.
The Orao Griffith Sunglasses RRP £19.99 are available online at decathlon.co.uk and instore. For an even more bargain spare pair of sunglasses Orao also have the Arenberg glasses for a mere £4.99 – details here.