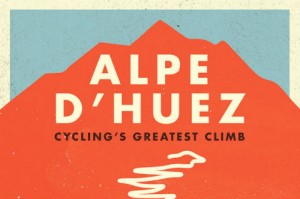 It might seem madness to dedicate an entire book to a single climb, but when the climb in question is the legendary Alpe d'Huez it all starts to make much more sense.
Sometimes referenced as the Tour de France's 'Hollywood climb' the iconic Alpe d'Huez, which tortures riders through 21 numbered hairpins at an average gradient of 7.8% for a sapping 13.8km, was first introduced in 1952 (conquered by Fausto Coppi) but had to really sit it out until 1976 to become the institution it now is.
Cycling journalist Peter Cossins – author of the equally excellent The Monuments: The Grit and the Glory of Cycling's Greatest One-day Races – combines both passion and reverence for the climb, weaving together stories of TdF appearances with tales of the climb's (and resort's) developments and occasion scandals. Whilst you might expect such a niche book to appeal wholly to the geekiest of cycling enthusiast Cyclo would argue that the highly accessible prose and sheer joy of the writing could tempt even the most casual Sunday cyclists.
Only a handful of pictures are included – something of a shame, but a limitation of the format – although more than an intimate sense of association with Alpe d'Huez is conjured up regardless. Anyone who has ever watched the TdF riders slug slowly – sometimes not so slowly – up this climb, battling the legendary crowds as much as the mountain, will find inspirational detail here and those who have been brave/fortunate enough to tackle it themselves will be able to relive every last energy-depleting twist and turn.
If any one single climb deserves a book all to itself, it's the Alpe d'Huez and Cossins is demonstrably the man to tell the tale.
Alpe d'Huez: The Story of Pro Cycling's Greatest Climb by Peter Cossins is published by Aurum Press, currently available from, amongst other places, Amazon at £12.99 hardback and £12.34 on Kindle.
Further details and all the latest news from Aurum Press can be found on Facebook and Twitter - You can follow Peter Cossins on Twitter too @petercossins