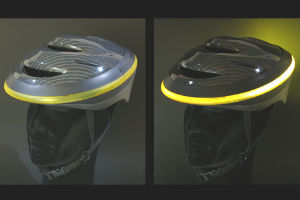 If you're looking for additional cycle safety during the darker winter months, or indeed just looking to up your visibility in general, then the Angel cycle helmet from Bicygnals offers an interesting solution. Fundamentally a regular cycle helmet in appearance (although with rather sleek 'designy' affectations), the Angel has an integrated band of fibre optic light, which illuminates around the full circumference at the push of a button.
Created by Gavin Thomson, who has produced designs for companies ranging from BA and Samsung to MontBlanc and BT, the Angel certainly looks the part – combining matte black elements with a print-textured polycarbonate shell upper that's clearly intended to give that carbon-look edge to proceedings. The illuminated yellow band – which creates the angelic halo effect, giving the helmet both its unique selling point and name – is powered by a battery recharged via a supplied USB cable; the light is by far the brightest to the rear, diminishing substantially to the front of the helmet. A nice inclusion though is the ability to use the band in either solid or flashing mode.
As you might suspect the Angel is not the lightest (no pun intended) of affairs, weighing in at a bulky 535g – around double the weight of an average road helmet – but then this is hardly the lid of choice for those looking for speed or aerodynamics; as a straight commuter option the trade off between weight and additional safety may well be worth considering.
Despite the weight, a fairly basic internal cradle and minimal padding the Angel is surprisingly comfortable for day-to-day use, the universal sizing (54-61cm) can be ratcheted up and down with a simple dial-wheel and the strap adjusts easily and incorporates a detachable beard-guard/chin pad. The venting is bare-minimal (which is telling in the weight department) but adequate enough for the intended commute rather than sportive use.
Easy to dismiss as a novelty item, the Angel is in fact a useful safety addition to the commuters' arsenal. Priced at £49.95, further details and online purchase via bicygnals.com