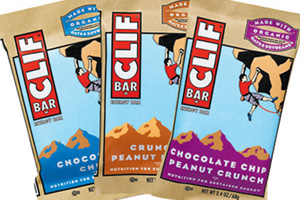 Having recently enjoyed reviewing – and obviously eating – Bounce Energy Balls (review here), Cyclo thought it about time we introduced you to one of our all-time favourite ride snacks: Clif Bar. Whilst Bounce are pretty much the new kids on the nutrition block, Clif are currently celebrating 20years of delivering wholesome, nutritious goodness having made their début, appropriately at a cycle show, in September 1991. A couple of years before CEO and Founder Gary Erickson had been enjoying a 175mile bike ride when he tried a friend's sports bar, hated it and thought "I could make a better bar than this…" Two years of experimenting in his mum's kitchen and having named it after his father, Clifford, Erickson realised his ambition.
Clif Bar are available in three flavours in the UK – Oatmeal Raisin Walnut, Choc Chip and, our favourite, Crunchy Peanut Butter, whilst in the US consumers are spoiled by a far wider choice including the intriguing sounding Iced Gingerbread, Spiced Pumpkin Pie and Black Cherry Almond. In common with Bounce, Clif sport impressive natural and (largely) organic credentials along with a thoroughly home-made look and texture. They weigh in at 50g and because they are both filling and slightly on the chewy side they lend themselves to nibbling rather than gulping down in one hit – something that can be advantageous when trying to drip-feed your body the suitable nourishment on a long ride. Taking the Crunchy Peanut bar as a fairly representative example of the whole range the delivery of goodness is impressive for weight: 193kcal per bar with 9g of protein and just shy of 30g of carbohydrates; as you should be looking at an ideal protein to carb ration of between 1:3 and 1:4 (as this is where the absorption of carbohydrates works most efficiently) Clif Bars are spot on. 13g of the 29.5g of carbohydrates are (natural) sugars and less than a quarter of the bar's 4.5g of fat are saturates. Pretty much every other important vitamin and mineral is also present – from A, D, E and C through Magnesium and Zinc for body-salt balance.
Clif Bar may have been around for two decades, but are still hard to beat.
Available individually from numerous high street health food and sports shops or as boxes of 15 online with an RRP of £19.99