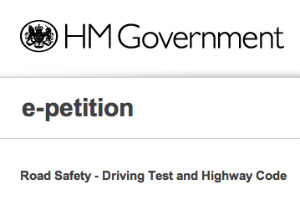 An e-petition for cycling awareness that calls for changes to the driving theory and practical test and supports British Cycling's Road Safety manifesto has been set up by one of its members, Mike Higgins. The e-petition has already attracted more than 15,000 signatures and has been leant support by cycling legend Chris Boardman who comments, 'It's common sense, we should make sure that all new drivers are taught how to be careful around cyclists'.
Higgins was moved to establish the e-petition after the tragic death of a cyclist near to his home in Leicestershire. 100,000 signatures are needed for the petition to be debated in parliament, but with your help that could easily be achieved well before its close in January next year. For more information on British Cycling's Road Safety manifesto, which calls for '…changes to the driving test to make cycle awareness a core part of driver training and testing with emphasis on how much space to give cyclists and how to safely overtake cyclists' see britishcycling.org.uk – to sign the e-petition visit epetitions.direct.gov.uk
Please sign, share, retweet and get involved to help save the lives of British cyclists.