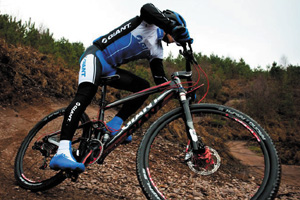 It's a big weekend ahead for Mountain Biking with both the Cross Country (July 16 & 17) and Fourcross (July 17) components of the British Mountain Bike Championships taking place – with Downhill following up in Llangollen on Sunday July 24.
Promoted by Bikelicker Events Ltd in association with Dare2B, the Cross Country events get underway in Richmond, North Yorkshire with 17 hotly contested titles up grabs. With Liam Killeen and Oli Beckingsale both having dominated proceedings over recent years (Beckingsales the repeat winner from 2005-2007 and Killeen taking consecutive years from 2008-10), it's gong to be an interesting one to watch, with the two of them going head-to-head along with the outside chance of under-23 rider Dave Fletcher there to upset the apple cart. Just to see what riders are in for at Richmond take the video tour of the course below…
Meanwhile the Fourcross Championships (promoted by Naked Racing) are heading for Harthill, Cheshire where the eventual winner will earn the right to wear the all-important a red, white and blue jersey for the coming year. Scott Beaumont (winner in 2008/9) is expected to face tough competition, particularly from the defending champion Will Longden. In the Women's Championship defending champ Katy Curd remains favourite although she'll be testing herself to the limit against Joey Gough who impressed at the Fort William World Cup.
For more information on the Cross Country events see: www.xcnc.nutcrackermtb.co.uk
And for the Fourcross visit: www.british4x.com
Photo Credit: liamkilleen.com
National XC Championship course preview from Nutcracker MTB on Vimeo.