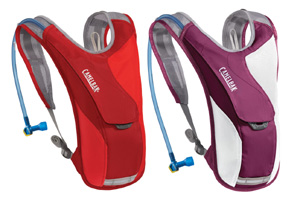 The new CamelBak Charm 2011 is a women's specific hydration solution from the market leaders of such accessories and being from CamelBak you probably don't need telling that it's well made and does it's job well (it is and it does) – but Cyclo just loves this new version so we thought it worth highlighting a few of it's finer points.
First things first then: women's specific means not only a shorter length (or 'back profile' to use the unnecessary buzzword) but also a more comfortable s-shaped harness that curves across the shoulders and around the front in a way that won't get in the way of any important anatomical bits. It does also mean that it lacks, for obvious reasons, a sternum strap but the fit is snug enough that the pack still sits incredibly close to the back even on the lumpiest of off-road down hills.
With a 1.5L (50oz) capacity reservoir this is a fairly minimalist pack but should be sufficient to keep you well hydrated in the saddle for up to two hours depending on weather conditions. The reservoir itself is the newly reworked 'Antidote' design, low profile (less 'sloshy' water), with a wide opening port for quick filling and with improved integration into the pack itself via the 'click-link' system that does exactly that and 'clicks' into place. The shoulder straps are mesh, keeping things cool, but have only the bare-minimum of padding, not a big problem given how light the pack feels.
There are, however, a couple of minor issues in our opinion. The adjustments straps are incredibly long, particularly given the short length of the pack itself, and have a tendency to flap wildly unless tied together – a simple clip or buckle to fasten these back around the middle would have improved things. Also the tiny zip pocket on the back is just that – tiny. Just enough to fit a key or emergency cash but unlikely to accommodate most phones and certainly too small for a gel, let alone two. With safety firmly in mind Cyclo would also have liked to see more reflectives on show rather than the single, rather miserly, 3inch strip tucked away right at the bottom.
Minor issues as we say, because all in all the Charm (which is available in blue, red and purple – CamelBak have sexier names for the colours) is still arguably the best women's specific hydration pack we have tried. Widely available, RRP £34.99.