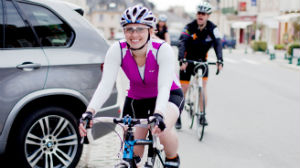 In the first of a series of features on cyclists taking on challenges against the odds, Cyclo looks at the Halow250 and how one woman defied medical expectations to help raise essential funds for her charity.
On May 6, after 250miles of riding and 11000ft of climbing, Mel Simmonds was one of a team of 75 people who cycled into Guildford Rugby Club as part of the Halow250 charity ride. Now in its second year and organised by 2Boats Events the test of legs, lungs and spirits had raised an impressive £60k but for Mel the ride and challenge was even more personal.
In July 2010 Mel was on holiday with her boyfriend Jay on the Ionian island of Kefalonia when the steering on the quad bike they had hired locked. Both Mel and Jay were thrown from the bike and both suffered horrific injuries with Mel left with legs badly broken in several places. Back in the UK she spent six months in a wheelchair and underwent several operations – it was thought she would struggle to walk, let alone tackle anything more physically exerting. But determined not to let the accident control or define her she started work at Surrey charity the halow project, which supports young people with learning disabilities. Having been involved with several fundraising events at the charity she took the ultimate leap and entered the Halow250 ride…
But the first obstacle was bike selection; Mel's network of friends came to her aid and with their help and some back up advice from George and Mark from the 2Boats team, she settled on the Cube Peloton Pro Triple 2013 road bike. Having got the bike, Mel set up her training plan that took place across what turned out to be a harsh winter, but this didn't stop her. The ride organisers were again on hand to help with advice putting together a programme with Mel carefully building up her road mileage and helping her to gain in confidence on the busy roads of Surrey.
The event day saw halow patron Damon Hill launch the ride with the first stage of 75miles through Surrey, Hampshire and Sussex finishing at Portsmouth Dockyard with a welcome drinks reception on HMS Warrior. After an overnight ferry crossing to the Continent the weather was again perfect for day two; with good support and regular feed stations and lots of encouragement, Mel cycled the 110miles into Caen in good time for a meal and a celebratory drink having comfortably broken the land mark of 100miles in a day. It was then back on the overnight ferry for a good night's sleep in preparation for the last leg of the ride back to Guildford. The final leg was 50miles up through the beautiful Sussex country, a more leisurely ride for all the cyclists to savour their achievements, with a mass ride into Guildford Rugby club and an emotional welcome home party.
Speaking about her experience Mel says: 'The Halow250 event helped me enormously – I had no idea just how much it would mean. Physically, the on-going pain I suffer stopped when I began training and getting fitter ahead of the challenge. I felt great during the challenge and never felt fitter health wise. But more than that, my job and work with halow has helped me both physically and mentally to come to terms with what happened and overcome my injuries.'
'I absolutely love my job with halow and find the work very rewarding,' she continues, 'My new found love of cycling would never have happened had it not been for my accident and working with halow. I can't wait to ride again in the 2014 event in May and I am already trying to get friends and family to sign up and take part. It's an inspiring ride through beautiful English and French country side with incredible people and is suitable for novice and more experienced riders… I suppose my accident taught me to never give up and live life to the full.'
On May 2-4, 2014, 2Boats will once again be organising the Halow250 to raise essential funding for the halow project – for details on how to get involved visit halow250.org.uk
Do you have an inspirational cycling story for Cyclo? Get in touch – email editor@cyclo.co.uk